TOUCHED BY LYME: When you realize that yes, recovery is possible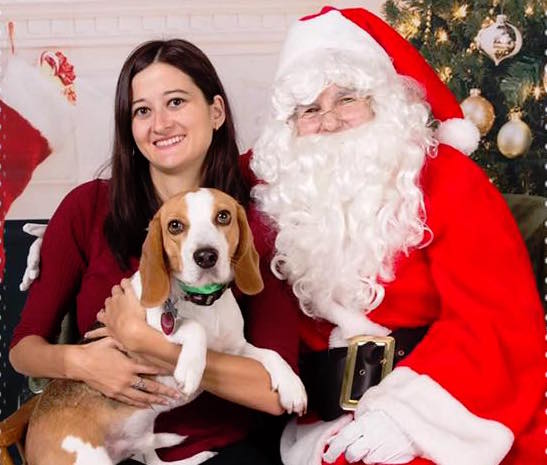 Guest blogger Sofia Webster has undergone treatment for Lyme disease, co-infections, and mold. She originally posted this update for her Facebook friends. With permission, I re-publish it here–in hopes of encouraging other people facing similar challenges.
Y'all, 2016 has been so good to me. Which is pretty ironic, given the difficult year our planet has had. I got so much life, spirit, and rejuvenation out of 2016 and I am incredibly happy with where I am right now. Here's a review of my 2016 and the hard but wonderful things I've learned along the way.
1. I started therapy. My therapist has helped me realize that I have a lot of pain to heal from and work through. She also certified Dante [pet beagle] to be my emotional support animal and he comes with me to my sessions sometimes.
2. I read my first book in two years, "Dracula" by Bram Stoker. This is a really really big accomplishment for me. I haven't been able to read novels since 2012, which was difficult as an English major. I've read 15 books this year.
3. I planned and went on two "mold sabbaticals" to Death Valley with my mom and dad. It was incredibly life-changing. I climbed mountains, rode a bike, pitched a tent, and even hiked. I was crying tears of utter disbelief and joy at the top of Golden Canyon, my very first hike in TEN YEARS. I learned that my life could have joy and that recovery is possible for me. It was beautiful and special. [Editor's note: A "mold sabbatical" is a test period where you leave home and possessions behind, and stay 2-3 weeks in as pristine an environment as possible. During this time, you watch to see if your symptoms change. Then, you see if your body reacts when you return home. See "A Beginner's Guide to Mold Avoidance."]
4. I got rid of all of my possessions, except for my tablet, my glasses, my phone, and some jewelry. I started completely over and really buckled down on mold avoidance. My possessions were making me really ill, due to cross-contamination mold problems from my prior residence. My life is minimalistic and I have very few possessions now. It's okay though.
5. I started listening to podcasts/audiobooks and watching movies. Podcasts challenged me to use my brain and flex my critical thinking skills. I watch at least one movie every day. This is a feat because last year I could only watch children's movies or movies I've already seen because thinking was too difficult for me. This year I've seen some amazing films, including "Cabinet of Dr. Caligari" and "Eraserhead."
6. I started co-facilitating the Sacramento Lyme support group. I help with the Facebook group and the monthly in-person meetings, and I planned our holiday potluck. It feels good to help!
7. I went to Mercey Hot Springs for another sabbatical. Even though I had a tough time without cell reception or stable internet, I had a nice time seeing majestic owls and tons of birds. I also fell while doing something fun for the first time in probably 10 years. It was a fall into health!
8. I started walking and spending lots of time at a local nature preserve. I'm getting out of my house and exercising.
9. All my work on mold avoidance paid off; I learned my body has no more trichothecenes, the mycotoxin in black mold. My mold doctor was so impressed with my progress that he wants to use my case as an example in a forthcoming book.
10. I stopped needing my wheelchair and my cane. I only use them on the worst days, but overall I hardly need them at all.
11. I started going to the Crocker Art Museum's evening social events. I've been learning about art and getting out of my house and even dress up sometimes.
12. Overall, this year I have been working really really hard at recovery from my ailments and diseases. I am doing a really good job of taking care of myself, and my body and mind are thanking me for it. I have more melanin in my skin, I am less pale and more brown, I have more energy and much more brain power, I am a healthy weight (I struggled with being underweight), I am happy and stress-free, and I am constantly reading and working on getting better.
I am so SO happy with my progress. I am starting to get my life back. RECOVERY IS POSSIBLE FOR ME!
Sofia Webster co-facilitates the Sacramento Lyme Disease Support Group, which meets monthly and also maintains a Facebook group. Her previous guest blogs can be viewed here and here.
TOUCHED BY LYME is written by Dorothy Kupcha Leland, LymeDisease.org's VP for Education and Outreach. She is co-author of When Your Child Has Lyme Disease: A Parent's Survival Guide. Contact her at dleland@lymedisease.org.