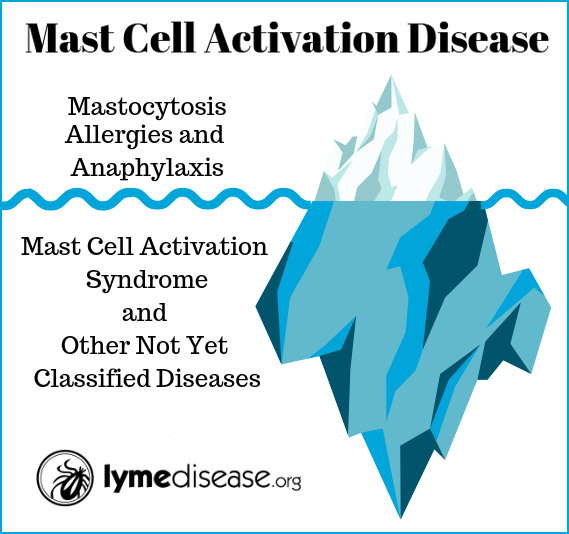 Many Lyme patients find they develop serious allergic reactions to foods, medications and cleaning chemicals that they used to be able to tolerate with no problem.
This can be a sign of mast cell activation syndrome, a newly recognized condition that is one of several mast cell activation diseases often abbreviated "MCAD."
According to Dr. T.C. Theoharides, an expert in the field, "Mast cells are 'universal alarm cells' that start the inflammatory cascade. They can be triggered by infection, allergens, environmental factors like pollution, or even emotional stress. Once that happens, mast cells set into motion a series of inflammatory reactions, including the activation of immune cells and the release of tumor necrosis factor-alpha (TNF-a), a pro inflammatory protein or cytokine."
Mast Cell Activation Diseases
Mast cells are a normal part of our immune system. They live in the bone marrow, flow through our blood stream and are located in every organ and connective tissue of the body. When mast cells detect stress, injury, toxins or infection, they release specific chemicals (mediators) which trigger an immune response. Think of them as sentries or guards.
When mast cells perform properly, they help us. When mast cells are agitated or over-reactive, the immune system goes haywire and starts to attack the body, triggering auto-inflammatory processes.
There are two major forms of mast cell activation diseases
Mastocytosis — the abnormal accumulation of mast cells in one or more organ systems (cardiovascular, central nervous, digestive, endocrine, genitourinary, lymphatic, muscular, peripheral nervous, respiratory, dermatologic) which is diagnosed by a bone marrow biopsy or a genetic test.
Mast cell activation syndromes (MCAS) — the inappropriate release of mast cell mediators including: histamine, interleukins, prostaglandins, cytokines, chemokines, and heparin (There are more than 200 chemical mediators associated with mast cells.)
Up until recently, mast cell disease was thought to only include mastocytosis, a rare condition recognized in the medical literature since 1869. It wasn't until 1988 that the first papers of "disorders of mast cell activation" were published, and nearly another 20 years later, in 2007, before the first case reports of mast cell activation syndrome came out.
As more information is learned about MCADs, researchers are finding that mastocytosis is really just the tip of the iceberg for mast cell diseases. MCAS is currently considered an 'emerging' illness, not because it is a new disease, but emerging from a lack of recognition and understanding.
Symptoms of MCAS
Some patients report years of having various allergic-type reactions to assorted substances. Then, a particular triggering event leads to a cascade of increasing symptoms. For example, somebody might have sensitivities to a few foods over several years. Then suddenly, anything they eat causes a bad reaction.
Potential triggers of MCAS:
Infection: bacteria, fungi, parasite, virus
Insect bites: spiders, ticks, fleas, mosquitos, bed bugs
Foods: dairy, fermented or aged food, wheat, shell fish, sugar, preservatives
Drugs: alcohol, hormones, opioids, medications and/or fillers in medications
Dyes: food coloring, radiographic dyes, pigments in makeup
Environmental: sun exposure, temperature and/or pressure changes, pollen, dust, mold, animal dander, heavy metals, pesticides
Noxious odors: perfumes, smoke, exhaust fumes, smog, cleaning supplies
MCAS can affect many body systems:
Abdominal: pain, diarrhea and/or constipation, gastritis, reflux, nausea, irritable bowel
Cardiovascular: high and/or low blood pressure, POTS, rapid heart rate, loss of consciousness, palpitations
Skin: hives, rashes, flushing, swelling, edema, hive-like welt reaction when skin is scratched (dermatographic uticaria) also called skin writing
Eyes/Ears: dry, itching or burning eyes, conjunctivitis, watery eyes, visual disturbance, ringing in the ears, hypersensitivity to light or sound
Genital/Urinary: endometriosis, ovarian cysts, painful bladder
Growth and development: delayed puberty, poor healing, cysts, fibrosis, endometriosis, connective tissue disorders, osteoporosis
Liver: enlarged spleen, elevated cholesterol, liver enzymes or bilirubin.
Lungs: cough, asthma-like symptoms, shortness of breath, wheezing, anaphylaxis
Nodes: enlarged lymph nodes
Nervous system: headache, pain, poor concentration/memory, anxiety, insomnia, dizziness, migratory pain and/or numbness, wide range of psychiatric disorders
Oral/Nasal: sores, burning pain, itching, sneezing, runny nose, difficulty swallowing
Diagnosis of Mast Cell Activation Syndrome
Because MCAS is a relatively new diagnosis, there are very few laboratory tests available. A diagnosis of MCAS should be made by a practitioner who is familiar with the condition, and be based upon a person's clinical history and symptoms, response to medications and confirmatory lab work. (Complete guide to the diagnosis of mast cell activation syndrome.)
Treatment for Mast Cell Activation Syndrome
The Mastocytosis Society, a nonprofit organization dedicated to supporting patients affected by mast cell activation diseases, offers a list of physicians who provide care for patients with these conditions.
For more information about mast cell activation syndrome and how one family solved this problem, we recommend you read this series of posts in our LYME SCI blog. (More about mast cell activation syndrome)