Tick-borne infections are zoonotic—meaning they are passed from animals to humans. "Vectors" like ticks, mosquitos and fleas transmit the diseases from animals like mice, rats, and squirrels to humans when they bite. Ticks can carry many bacteria, viruses, fungi and protozoans all at the same time and transmit them in a single bite. The most common tick-borne diseases in the United States include Lyme disease, babesiosis, anaplasmosis, ehrlichiosis, relapsing fever, tularemia, Rocky Mountain spotted fever (RMSF). Diseases acquired together like this are called co-infections.
Babesia

Babesia is a malaria-like parasite, also called a "piroplasm," that infects red blood cells. Scientists believe Babesia microti is the most common piroplasm infecting humans, but they have identified over twenty piroplasms carried by ticks. In addition to transmission by a tick, babesia can be transmitted from mother to unborn child or through a contaminated blood transfusion. Currently, most blood banks do not screen donated blood for babesia.

The first case of babesiosis was reported from Nantucket Island, Massachusetts, in 1969. Since the late 1980's, the disease has spread from the islands off the New England coast to the mainland. Cases have also been reported across the United States, Europe, and Asia.

Symptoms

Symptoms of babesiosis are similar to those of Lyme disease but babesiosis more often starts with a high fever and chills. As the infection progresses, patients may develop fatigue, headache, drenching sweats, muscle aches, chest pain, hip pain and shortness of breath ("air hunger"). Babesiosis is often so mild it is not noticed but can be life-threatening to people with no spleen, the elderly, and people with weak immune systems. Complications include very low blood pressure, liver problems, severe hemolytic anemia (a breakdown of red blood cells), and kidney failure.

Diagnosis and Treatment

Sometimes, babesia can be detected in blood examined under a microscope. However, this method is reliable only in the first two weeks of the infection. Commercial tests currently detect only two strains of Babesia and there are likely many strains yet to be discovered. The PCR (polymerase chain reaction) test can detect babesia DNA in the blood. The FISH (Fluorescent In-Situ Hybridization) assay can detect the ribosomal RNA of Babesia in thin blood smears. The lab can also test the patient's blood for antibodies to Babesia. It may be necessary to run several different tests, and negative results should not be used to rule out treatment.

Babesiosis is typically treated with a combination of anti-malarial drugs and antibiotics. Relapses sometimes occur after treatment and must be retreated.

Bartonella

Bartonella are bacteria that live primarily inside the lining of the blood vessels. They can infect humans, mammals and a wide range of wild animals. The disease that results is called bartonellosis.

Bartonella henselae causes an important emerging infection that was first reported in 1990. It is mainly carried by cats and causes cat-scratch disease, endocarditis, and several other serious diseases in humans.

Bartonella bacteria are known to be carried by fleas, body lice and ticks, and there's high suspicion that ticks transmit it to humans. People with tick bites and no known exposure to cats have acquired the disease. People who recall being bitten by ticks have been co-infected with the Lyme spirochete and bartonella. Scientists have recently established that ticks can transmit Bartonella to mice. More research needs to be done to establish the role of ticks in spreading the disease. In addition, a recent study suggests that bartonella may be passed from mother to unborn child (perinatal transmission).

Scientists have identified several species of bartonella. Sand flies in the Andes Mountains in Peru, Colombia, and Ecuador carry one type. Human body lice worldwide carry another. European sheep ticks carry Bartonella and scientists have detected five different Bartonella strains in 19.2% of Ixodes pacificus ticks collected in California.

Symptoms

Historically, bartonellosis has been described as a mild, acute, and self-limiting illness. However, more and more doctors recognize that bartonella can cause chronic infection. Patients may suffer relapses because bartonella periodically cycles into red blood cells, which may provide a protective niche for the bacteria.

Early signs of bartonellosis include fever, fatigue, headache, poor appetite, and an unusual streaked rash that resembles "stretch marks" from pregnancy. Swollen glands are typical, especially around the head, neck and arms. Patients with bartonelliosis report more neurological symptoms and are more likely to have visited a neurologist than members of the general population. Some common symptoms include blurred vision, numbness in the extremities, memory loss, balance problems, headaches, ataxia (unsteady gait), and tremors. Bartonellosis also sometimes triggers psychiatric manifestations.

Diagnosis and Treatment

Polymerase chain reaction (PCR) and tissue biopsy can be used. However they are also insensitive, as are standard blood tests. Dr. Ed Breitschwerdt, a professor of Veterinary Science at North Carolina State University who has studied bartonellosis extensively, notes that tests for the bacteria may be negative one time and positive another.

Fluoroquinolones and doxycycline are sometimes successful in treating bartonellosis. However, some doctors report the need to use several antibiotics in combination.

Ehrlichia And Anaplasma

Ehrlichiosis is a term that describes several different bacterial diseases, one of which is also called anaplasmosis. Some are transmitted by Ixodes ticks and others by the lone star tick.

Symptoms

The clinical manifestations of ehrlichiosis and anaplasmosis are the same. Each is often characterized by sudden high fever, fatigue, muscle aches, headache. The disease can be mild or life-threatening. Severely ill patients can have low white blood cell count, low platelet count, anemia, elevated liver enzymes, kidney failure and respiratory insufficiency. Older people or people with immune suppression are more likely to require hospitalization. Deaths have occurred.

Diagnosis and Treatment

Diagnosis is limited by our current ability to test for only two species. Ehrlichia parasites multiply inside host cells, forming large mulberry-shaped clusters called morulae that doctors can sometimes see on blood smears. The infection still can easily be missed. The doctor may suspect ehrlichiosis/anaplasmosis in a patient who does not respond well to treatment for Lyme disease.

The treatment of choice for ehrlichiosis/anaplasmosis is doxycycline, with rifampin recommended in case of treatment failure. In resistant or complicated cases, combination antibiotic therapy may be necessary to eradicate the infection.

Other Co-Infections

Besides the diseases described above, ticks in different geographic areas may be infected with one or more of the following: Colorado tick fever virus; Mycoplasmas; Powassan encephalitis virus; Q Fever; Rocky Mountain spotted fever (Rickettsia); tickborne relapsing fever, other forms of Borrelia, and tularemia. The Tick Chart tells where these diseases are found. We have not yet identified all the diseases that ticks carry and transmit.

Colorado Tick Fever

Colorado tick fever is caused by a virus carried by Rocky Mountain wood ticks. Symptoms are acute high fever, severe headache, chills, fatigue, and muscle pain.

Mycoplasma

Mycoplasma species have been identified in ticks. Smaller than bacteria, they invade human cells and disrupt the immune system, causing fatigue, musculoskeletal symptoms, and cognitive problems. Mycoplasmas can be treated with antibiotics.

Powassan virus

Powassan virus causes tick-borne encephalitis. Patients may be asymptomatic or suffer severe neurologic compromise and death. Common symptoms may include fever, headache, vomiting, weakness, confusion, seizures, and memory loss. Long-term neurologic problems may occur. There are no commercial diagnostic tests for the disease, nor is there specific treatment. However, patients may need to be hospitalized to receive care to reduce swelling in the brain or for respiratory support.

Q Fever

Q fever is caused by Coxiella burnetii, a kind of bacteria carried by cattle, sheep, and goats. Symptoms are similar to those of Lyme disease. Q fever is likely to start with a high fever. Pneumonia and abnormal liver function also suggest Q fever. Doxycycline is the treatment of choice.

Rocky Mountain Spotted Fever

Rocky Mountain spotted fever is caused by bacteria called Rickettsia rickettsii that are transmitted by the bite of a tick. Patients develop high fever, rash, headache and bleeding problems. Thirty percent of untreated patients die. It is treatable with antibiotics, often doxycycline.

Tick Paralysis

Certain ticks secrete a toxin that causes a progressive paralysis, which is reversed when the tick is removed.

Tickborne Relapsing Fever

The agent of tickborne relapsing fever, Borrelia hermsii, is carried by soft ticks of the western United States. It is characterized by cycles of high fever and is treated with antibiotics.

Tularemia

Tularemia, or rabbit fever, occurs throughout the United States. It is caused by the bacterium Francisella tularensis. Symptoms may include skin ulcers, swollen and painful lymph glands, inflamed eyes, sore throat, mouth sores, pneumonia, diarrhea and vomiting. The most effective treatment is with fluoroquinolones.
Coinfections may be common – at least among those with chronic Lyme disease. A recently published LDo survey over 3,000 patients with chronic Lyme disease found that over 50% had coinfections, with 30% reporting two or more coinfections. The most common coinfections were Babesia (32%), Bartonella (28%), Ehrlichia (15%), Mycoplasma (15%), Rocky Mountain Spotted Fever (6%), Anaplasma (5%), and Tularemia (1%). A similar study in Canada found similar rates of coinfection in patients with chronic Lyme disease: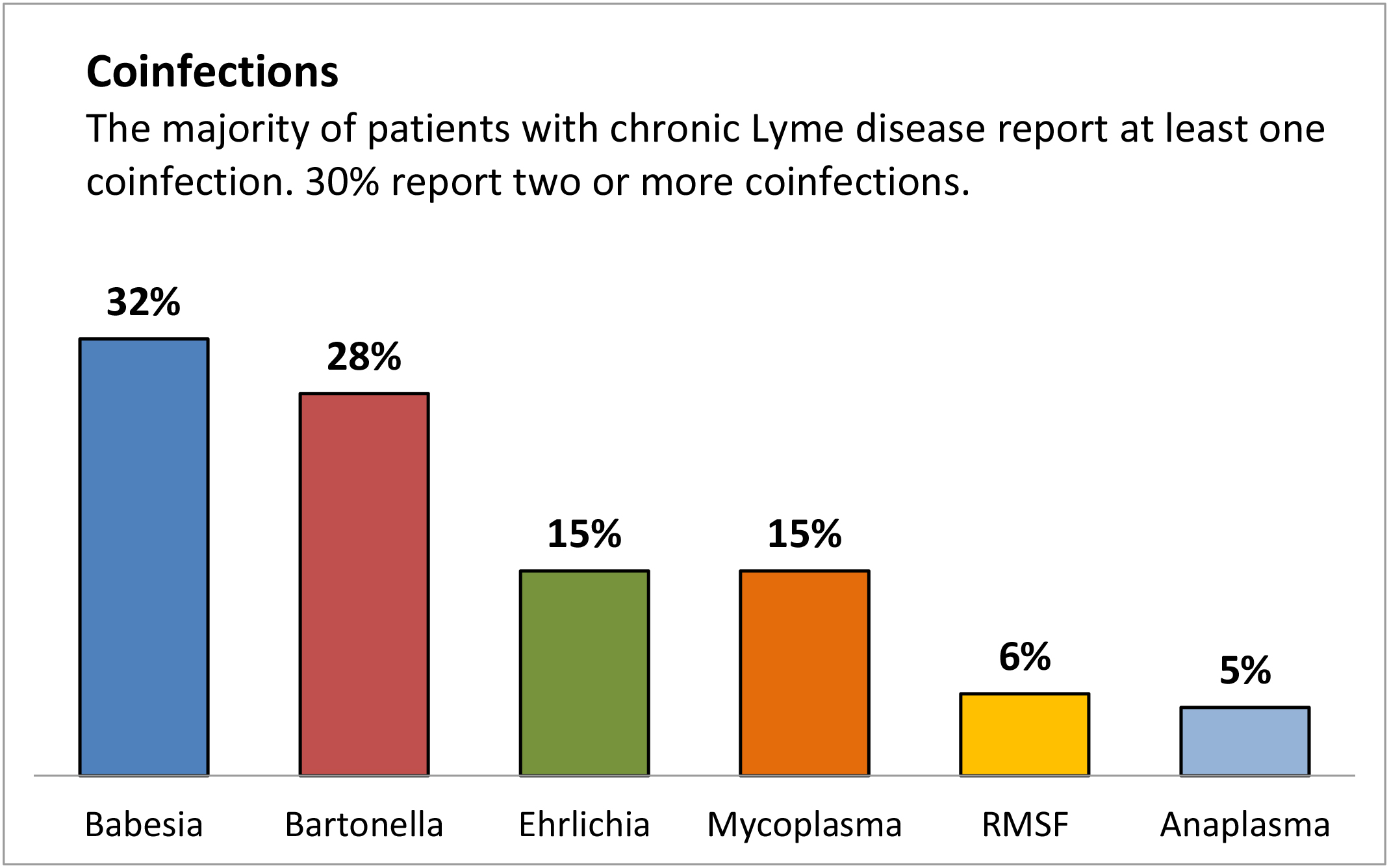 A person with a co-infection generally experiences more severe illness, more symptoms, and a longer recovery. The CDC recommends that physicians consider possible co-infection with babesia or anaplasma when patients have more severe symptoms of Lyme disease. However, other co-infections may be present as well.
Since Lyme disease was first identified in 1981, researchers have found more than 15 tick-borne pathogens that weren't known before. New ones are still being discovered. In 2011, Borrelia miyamotoi was identified as a cause of disease and recently recognized by the CDC in the United States. Commercial tests are not available for all tick-borne diseases, including infection with B. miyamotoi or Powassan virus.