"This picture shouldn't even be a thing"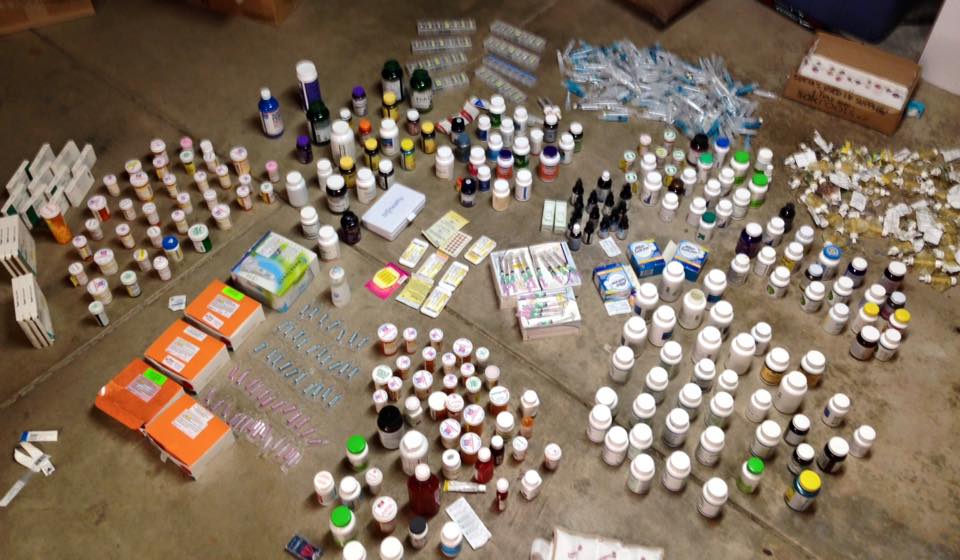 By guest blogger Sofia Webster
Once a year, I gather up all of the things that I've ever taken for Lyme disease and I document them by taking a picture. My collection has grown so much that it now takes up half of my garage.
These pictures represent three years of Lyme disease treatment. I separated them into sections based on what symptom the pills were meant to treat. Going from top to bottom, they include: antibiotics and pain killers, toxic mold treatment supplies, vitamins and supplements, antifungals, pill containers, bicillin injection syringes, herbals and homeopathics, anti-anxiety and depression medications, detoxing supplements, probiotics and gut medicines, and used IV supplies (which includes saline, heparin, heplocks, and IV bulbs).
Not pictured are: my far-infared sauna, all my mobility aids (two wheelchairs, two canes, a walker, and a shower chair), and all the medications I was prescribed before I was diagnosed with Lyme (4 years worth).
This picture shouldn't even be a thing. It is a thing because of the IDSA's unfair and inaccurate Lyme disease treatment guidelines, the misinformation spread by the CDC about Lyme, inaccurate Lyme disease testing, and the oppression that Lyme patients face by the medical industrial complex. Not to mention the complexities of the disease itself, like how spirochetes can change form, hide, and form biofilms.
I wouldn't wish the contents of this picture even on my worst enemy. Nobody deserves to be in this much pain.
Guest blogger Sofia Webster lives in Northern California.