TOUCHED BY LYME: When Lyme disease affects the heart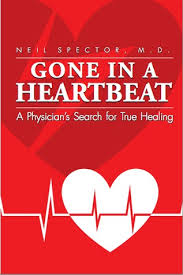 (Book review) Gone in a Heartbeat: A Physician's Search for True Healing, by Neil Spector, MD.
Neil Spector was a seemingly healthy physician living with his wife in Florida. One day, he experienced what appeared to be textbook symptoms of a heart attack. Erratic heartbeat, chest pressure, pain radiating from chest to neck and jaw. Except all the tests the emergency room gave him turned out "normal." He wasn't having a heart attack, his doctors said. They chalked it all up to stress, suggested he learn how to relax, and sent him on his way.
Spector continued to have troubling symptoms. Often, his heart pounded too fast. Other times, way too slowly. Sometimes, without warning, he'd fall to the ground. He had extended periods of bradycardia, when the heart doesn't pump enough oxygen-rich blood throughout the body. Yet, the answer from doctors (even though Spector was also a doctor) was always the same: Nothing wrong at all. Just a little stress.
Gone in a Heartbeat: A Physician's Search for True Healing, Spector's gripping memoir, covers about two decades. It starts with those initial heart-related episodes. Then it progresses to stages where he needs a pacemaker, then an internal defibrillator, and eventually a heart transplant. It's a riveting account of how this affects him, his wife, and their family. It's also about Lyme disease.
Fairly early in the book, Spector recounts: I knew that something was blatantly wrong with me—and that it seemed to be getting worse—but I still had no answers….I was caught in limbo between what I was being told and what I knew in my heart was the truth.
In addition to heart problems, other bizarre symptoms come and go. Episodes of brain fog. Significant weight loss. Fatigue, malaise, fibromyalgia-like pain. Insomnia. Yet the response from his doctors is always: Don't worry. It's just stress.
After doing some research of his own, Spector wonders if it might be Lyme disease. His docs say no. There's no Lyme in Florida, they say. Spector insists on a Lyme test anyway. Negative. He asks for a second test. Negative.
Several weeks after receiving a pacemaker, Spector develops arthritis in his wrists. Coincidentally, he takes doxycycline for something unrelated. To his surprise, his wrist pain goes away.
That gets him thinking. What can cause cardiac rhythm disturbances, arthritis, muscle pains and weight loss—and is helped by doxycycline? That brings him back to Lyme disease.
I made the mistake of calling several academic centers noted for their expertise in treating Lyme disease. I discussed my clinical situation and both lab results with several alleged experts in the field. Each had the audacity to make a diagnosis over the phone, based purely on lab tests, and agreed unequivocally that I did not have Lyme disease. …I should have said "baloney," but I was much too sick at the time to deal with what I was hearing.
The days drag on. Symptoms continue. Eventually, he travels out of state to a doctor who accesses him more thoroughly for Lyme. She diagnoses him with it and prescribes 90 days of IV antibiotics. At the end of that period, almost all of his symptoms have cleared up. Except for his abnormal heart rhythm, called heart block.
For reasons not really explained in the book, Spector does not continue with Lyme disease treatment. He mentions having "completed" the antibiotics. But since he still has heart block, how complete is that? He never gets into the IDSA vs. ILADS controversy over longterm Lyme treatment, but I suspect that plays a role.
After his return to "regular" life, Spector's heart capacity continues to diminish. Procedures and medications don't help. Finally, after several years of this, he is told that a heart transplant is his only option for continuing on this earth.
Gone in a Heartbeat is a heck of a good read. Spector vividly describes the range of emotions he experiences. He includes poetry he wrote during his ordeal. He shares his letter to the family of the heart donor. He movingly describes the immense gratitude he feels for getting another shot at life.
However, as a reader with a particular interest in Lyme disease, I find myself yearning for more information about that. Spector treats the Lyme episode as if it ends with 90 days of IV antibiotics—case closed. I can't help speculating that if he'd continued aggressive Lyme treatment, he might have headed off the need for a heart transplant. I can't help wondering if spirochetes still lurk in his body, perhaps doing unseen mischief. If he were asking my advice, I'd recommend that he follow up with one of the top ILADS doctors for an evaluation.
I deeply hope for his sake that Lyme is indeed behind him. Yet, Google news alerts for "Lyme carditis" land in my email box with disturbing regularity, reminding me that this serious problem is often fatal. It's not something to be ignored.
If you want more information about Lyme carditis and other heart-related manifestations of Lyme disease, here are a few links to get you started:
An Unrecognized Rash Progressing to Lyme Carditis: Important Features and Recommendations Regarding Lyme Disease.
What you need to know about Lyme carditis (CDC)
Third-degree heart block associated with Lyme carditis
Heart complications of Lyme disease
TOUCHED BY LYME is written by Dorothy Kupcha Leland, LymeDisease.org's VP for Education and Outreach. Contact her at dleland@lymedisease.org. On Twitter, she's @dorothyleland. (And LymeDisease.org is @LymeNews.)