TOUCHED BY LYME: Update of our protest about Dr. Gary Wormser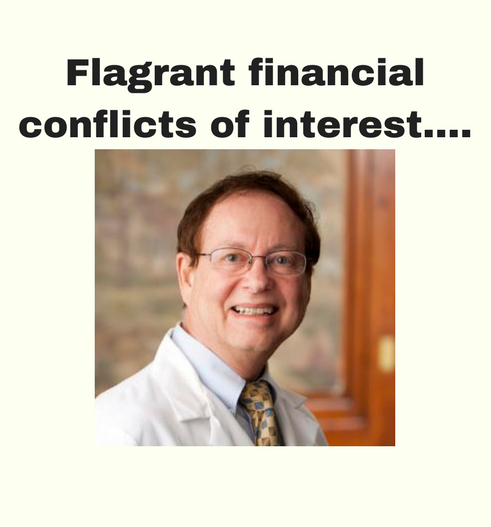 As I write this on Monday morning, Dec. 4, more than 8500 (update: 10,000+) people have signed our petition to remove Dr. Gary Wormser from the newly formed federal Tick-Borne Diseases Working Group, which has its first meeting on Dec. 11.
As previously reported, LymeDisease.org has protested Dr. Wormser's appointment, due to his serious financial conflicts of interest with companies that stand to gain from the panel's decisions.
As LymeDisease.org President Phyllis Mervine wrote to Dr. Richard Wolitsky, the federal officer in charge of the Working Group:
Dr. Wormser has substantial conflicts of interests with lab companies and other commercial interests. In a recent article he disclosed conflicts of interest with Immunetics, Inc. (the developer of the C6 Lyme test, which he promotes). The C6 Lyme test is known to be highly insensitive, yet the IDSA guidelines require positive lab tests in order for patients to be diagnosed and treated for Lyme disease. This means that patients must obtain repeated blood tests to obtain positive results, which helps drive up the profits of testing companies such as Immunetics.
Dr. Wormser also discloses Lyme-related conflicts of interests with Abbott, Institute for Systems Biology, Rarecyte, Inc, and Quidel Corporation. He also has financial ties to insurance companies, having served as an expert witness in court cases against doctors for treating Lyme disease outside of the IDSA guidelines
We sent that comment to Dr. Wolitski last week, and this morning received a boilerplate acknowledgement of our message. It emphasized that the Working Group is supposed to represent a diversity of opinions, not just ones we agree with. Here's my reply to that:
Dr. Wolitski: Thank you for acknowledging receipt of LymeDisease.org's letter to you. I realize that such large numbers preclude an individualized response.
However, I feel compelled to point out once again that we are NOT protesting Dr. Wormser's participation based on his opinions. Rather, we object to his flagrant financial conflicts of interest, with companies that stand to benefit greatly from decisions made by this Working Group.
Yes, the point of this panel is to bring together diverse opinions regarding Lyme and other tick-borne diseases. But there's a big difference between representing a scientific viewpoint and representing the commercial interests of profit-making lab companies.
Best regards,
Dorothy Leland, Vice-President, LymeDisease.org
Read more about why we protest.
Click here to sign our petition.
TOUCHED BY LYME is written by Dorothy Kupcha Leland, LymeDisease.org's VP for Education and Outreach. She is co-author of When Your Child Has Lyme Disease: A Parent's Survival Guide. Contact her at dleland@lymedisease.org