TOUCHED BY LYME: When Lyme makes your body attack your brain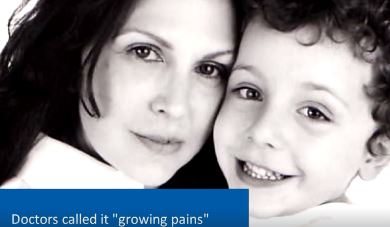 When Patrik was 2 years old he started limping and complaining that his legs hurt. His doctor called it "growing pains." Through the years, he continued to have troubling physical ailments, and his mom Carla kept taking him to doctors, who kept dismissing his symptoms.
Once in school, Patrik had a hard time paying attention and remembering things.  And, one day when he was about 10, he started blinking his eyes uncontrollably.
Once again, none of the doctors they consulted could figure out what was wrong. But they all agreed on one thing: it couldn't possibly be Lyme disease.  (Something Carla had come to suspect.) Interestingly, the blinking stopped temporarily when he was put on amoxicillin for something else—a factor that none of his doctors found significant.
Then, last year, all hell broke loose. New symptoms came flying at this young boy like a "perfect storm." He was overcome with anxiety.  He stuttered and cried, with wild moods swings erupting into fits of rage. Finally, his parents connected with a Lyme-literate doctor, and Patrik tested positive for Lyme disease.
But Lyme treatment alone was not enough to stem the rising tide that was hijacking this now 12-year-old boy's body and brain. After months of desperation, Patrik's family found a doctor who knew how to deal with autoimmune brain dysfunction triggered by Lyme disease.
The following remarkable video shows Patrik, Carla, and Dr. Souhel Najjar.
TOUCHED BY LYME is written by Dorothy Kupcha Leland, LymeDisease.org's VP for Education and Outreach. She is co-author of When Your Child Has Lyme Disease: A Parent's Survival Guide. Contact her at dleland@lymedisease.org.