TOUCHED BY LYME: Lyme Quilt coming to San Diego protest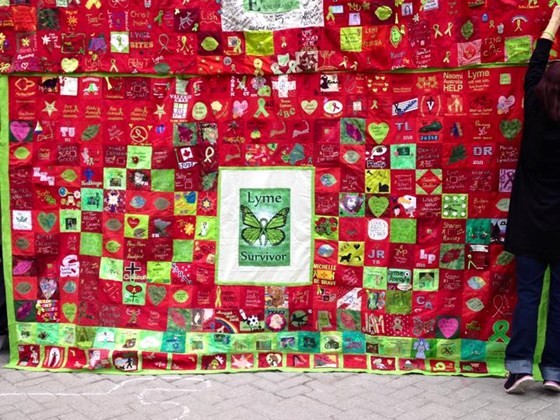 A couple of years ago, a Lyme patient named Tami Griffith felt inspired to create a special quilt in honor of the Lyme community. She enlisted her friend Nancie Brengle to help. For health reasons, Tami soon had to step back from the project, and Nancie took over, co-ordinating a team of Lyme warriors to help her pull it all together.
The idea is simple. Each square represents a single Lyme patient—green for those who have lost their lives to the disease, red for those who are still with us. Individual squares are designed by the person making it. Some people embroider, others place iron-on designs, and many have simply written their names on the squares.
According to Brengle, who lives in Falling Waters, West Virginia,"The quilt is a labor of love that belongs to the community. Each square is unique to an individual. Collectively the squares commemorate the suffering, disability, and devastation faced by thousands."
The quilt currently consists of two large panels that each measure twelve feet high and five feet wide.  A third panel is in the works.
The Lyme quilt has been displayed at numerous Lyme conferences, protests and vigils. Currently, it's bound for San Diego, to be part of the Oct. 9-10 protests outside the IDSA's annual conference. It will also serve as a backdrop for Oct. 9's candlelight vigil honoring those who have been lost to Lyme disease. There will be an opportunity for people to make new squares during the planned events.
Individual pieces of fabric transform into something powerful and amazing when stitched together into this quilt–a fitting metaphor for the Lyme community itself. Can you join us in San Diego?
For details about the San Diego events, click here.
TOUCHED BY LYME is written by Dorothy Kupcha Leland, LymeDisease.org's VP for Education and Outreach. She is co-author of When Your Child Has Lyme Disease: A Parent's Survival Guide. Contact her at dleland@lymedisease.org. On Twitter, she's @dorothyleland.