TOUCHED BY LYME: Sometimes "tick panic" is a good thing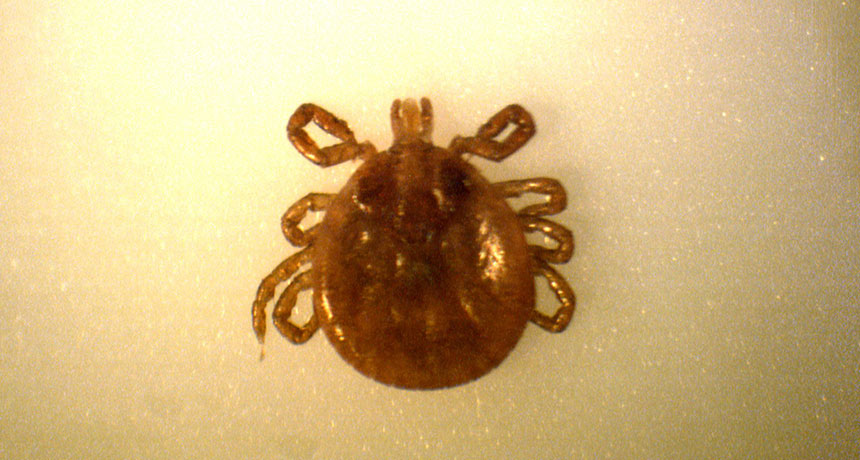 The headline caught my eye immediately: Five reasons to not totally panic about ticks and Lyme disease. The publication: Science News—Magazine for the Society of Science and the Public. The author: Meghan Rosen, a science writer who is also the mother of an infant. She writes:
I thought it was just a scab.
The brown speck clinging to my baby's cheek had been there for a day or so, resting on a reddish patch of skin. He must have scratched himself, I thought, as I picked lightly at the mark.
My husband was the first to figure out the truth. That little round speck wasn't a scab at all — it was a tick.
I had recently read a scary article about ticks (complete with scary title: "Be Very Afraid of Ticks"), and I was terrified. We plucked the bug off the baby, stored it in a plastic baggie and popped it into the freezer. But what next? Head to the ER? Get a blood test for Lyme disease? Start him on antibiotics in case he was infected?
Confronted with this situation, Ms. Rosen started looking for information. Unfortunately, she chose to take it only from sources closely allied with one side of a hotly contested medical controversy. I hope for her sake, and her child's sake, that her lop-sided information gathering doesn't result in serious illness for her baby.
In her Science News article, Ms. Rosen offers five reasons "to not totally panic." I take issue with some of them. Her points are in bold print, followed by my comments.
Not all ticks carry Lyme disease.
That's true. Not all of them do. Some may be free of known diseases, while others may carry a toxic soup of bacteria, protozoa and viruses that may or may not include Lyme disease in the mix. Previously unknown tick-borne diseases are being identified all the time. (Keywords to search: Heartland, Bourbon, miyamotoi.)
The one you plucked off your child was a lone star tick, you report, so you "don't have to worry about Lyme disease." (Do a search for Dr. Kerry Clark, of the University of North Florida, and how he has found Borrelia burgdorferi—Lyme—and other Borrelia species in lone star ticks. And find other information about many people who have been diagnosed with Lyme after being bitten by lone star ticks.)
You also say the tick has to be attached somewhere between 36-48 hours in order to transmit Lyme disease. It's true that this outdated information still resides on some pages of the CDC website. However, one recently updated CDC web page states this:  "If a tick is attached to your skin for less than 24 hours, your chance of getting Lyme disease is extremely small; however, other diseases may be transmitted more quickly."
"Extremely small" doesn't mean zero. Furthermore, some experts disagree with the CDC about attachment times. One study showed Lyme transmission in as few as six hours. And the sometimes deadly Powassan virus can be transmitted in 15 minutes. So there's no "comfort zone" when it comes to tick attachment times.
Lyme disease doesn't always cause the hallmark bull's-eye rash.
I agree with your statement above and disagree with what you say in the accompanying paragraph. You state that about 90% of kids with Lyme develop a rash at the bite site. Again, that depends on your source of information. The CDC says between 70-80% of Lyme patients show a rash. Other studies put the rate at about 50%. One MD who treats a lot of pediatric Lyme says fewer than 10% of his patients have had a rash.
Lyme disease is generally easy to treat.
That high-pitched wailing you hear is me screaming. The extra scraping and thumping sounds come from my fingernails clawing at my computer and my head pounding my desk. You quote a doctor as saying, "Lyme disease is completely treatable. All the symptoms literally melt away with antibiotics." There are so many things wrong with that assertion, I don't even know where to begin.
There are legions of suffering Lyme patients who WISH that were true. Alas, their cold hard experience is very different from that fantasy statement. Pain, fatigue, cognitive disorders, gastrointestinal disturbances, cardiac problems, learning disabilities and psychiatric conditions can all result from Lyme disease.
You also say "few if any people actually die of Lyme disease." I recommend you do a Google search for "Joseph Elone," a teenager from New York who got ill after a 2013 camping trip and was told by his doctors that it couldn't possibly be Lyme disease. Tragically, he soon dropped dead of Lyme carditis, and an autopsy showed spirochetes in his heart. (The diagnosis has been confirmed by the CDC.) I also recommend you Google "Zach Moritz," a former Boise State basketball player who reportedly died last week of Lyme-related causes.
Ms. Rosen, I agree with your premise that "reasonable concern" is more useful than "super freak out panic." And I believe that reasonable concern should be based on solid, accurate, complete information. Unfortunately, by only paying attention to one side of the Lyme disease controversy, you do your son and your readers a grave disservice.
I don't understand why doctors like the ones you quote here seem so complacent about tick-borne illness. A horrific story that's been in the news lately is the case of an Oklahoma woman who had an unrecognized case of tick-borne Rocky Mountain spotted fever. Unfortunately, it advanced to the stage where she had to have her arms and legs amputated in order to save her life.
If her doctors had been more attuned to the possibility of tick-borne disease, would she still have arms to hug her children?
TOUCHED BY LYME is written by Dorothy Kupcha Leland, LymeDisease.org's VP for Education and Outreach. She is co-author of When Your Child Has Lyme Disease: A Parent's Survival Guide, to be published in September 2015. Contact her at dleland@lymedisease.org.