If true, Shapiro on TBD Working Group will outrage Lyme community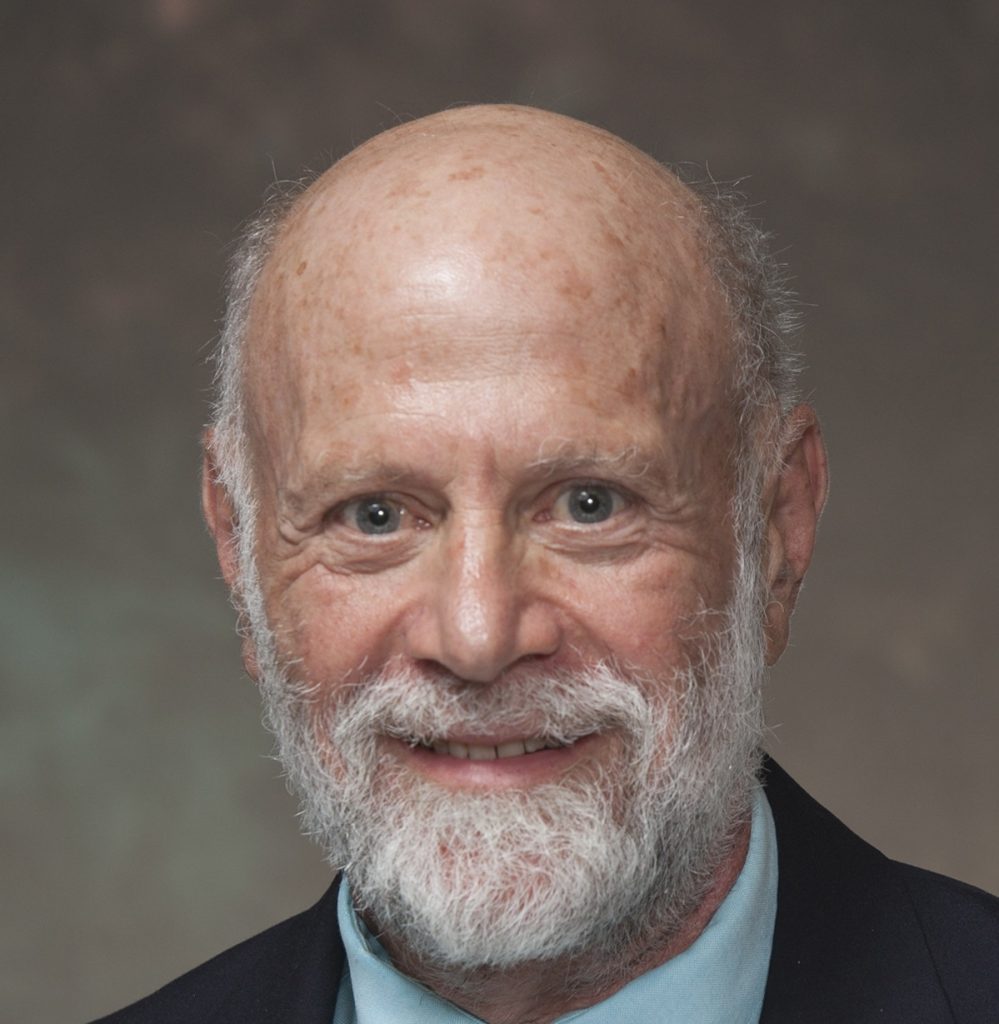 (Update: Click here to sign our petition to remove Shapiro from the TBDWG.)
The Infectious Diseases Society of America (IDSA) has announced on its website that Yale pediatrician Dr. Eugene Shapiro has been named to the federal Tick-Borne Disease Working Group. So far, there has been no confirmation of this from the Department of Health and Human Services (HHS).
If true, this development will likely spark outrage in the Lyme community, where Shapiro is widely viewed as working against the interests of patients.
Let us count the ways
Here are some of the reasons Shapiro is viewed as anti-patient: He  has testified in court against Lyme-treating doctors, including Connecticut pediatrician Charles Ray Jones, seeking to get their medical licenses revoked. He has helped insurance companies deny disability benefits to Lyme patients. He has financial conflicts of interest related to vaccines.
Shapiro dismisses out of hand the concept of "chronic Lyme disease," casting aspersions on Lyme patients, their treating physicians, and any supporting research they point to. ("Fake research," he calls it in this article.)
He served on the IDSA's 2006 Lyme guidelines panel, and was called out by then-Connecticut Attorney General Richard Blumenthal for flagrant financial conflicts of interest.
Currently, he is a named defendant in Torrey v. IDSA et al, a federal lawsuit filed by a group of Lyme patients. It charges the guidelines authors and eight insurance companies with conspiring to deny medical care to Lyme disease patients.
He also receives royalties from "Up to Date," a point-of-care software system used by doctors to look up information about various medical conditions and treatments. (Sort of an online version of the IDSA Lyme guidelines.)
Financial conflicts of interest
An article co-authored by Dr. Ray Stricker and Lorraine Johnson (both of whom are board members of LymeDisease.org) lists some of Shapiro's financial conflicts of interest. (These conflicts are no secret. Shapiro himself has reported them in journal articles he has published.)
As the chart below shows, Shapiro has served as an expert witness in medical-malpractice cases related to Lyme disease; he has reviewed claims of disability related to Lyme disease for Metropolitan Life Insurance Company; and he has received speaker's fees from Merck and Sanofi-Aventis (pharmaceutical companies that develop vaccines).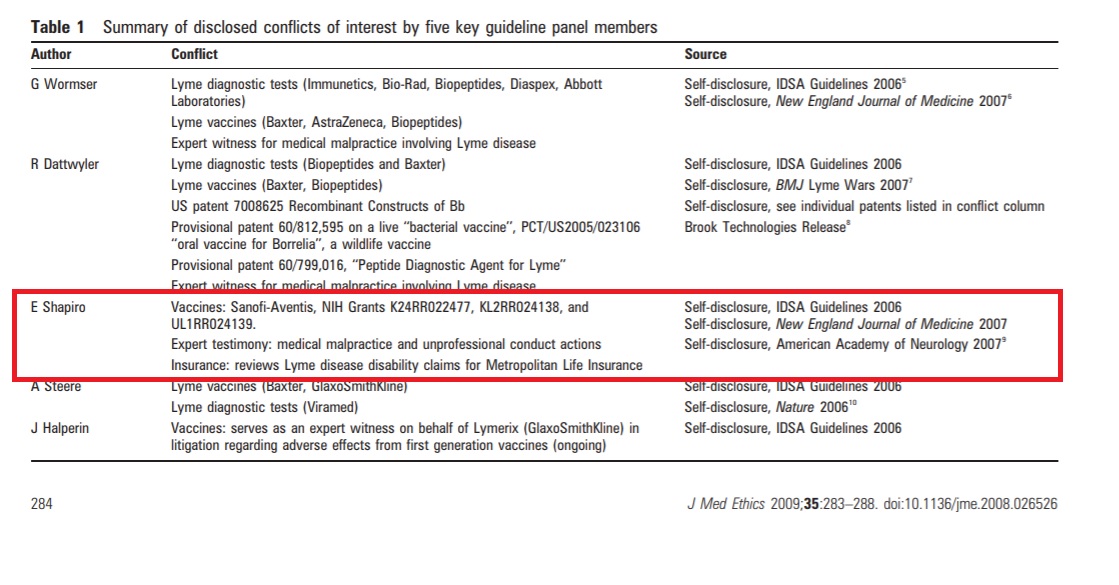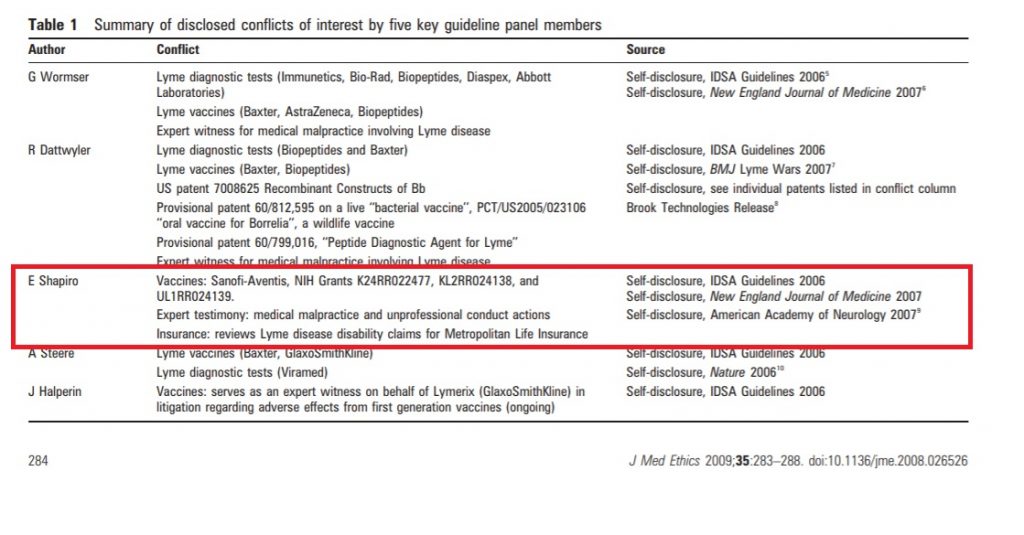 Shapiro is also a board member of the American Lyme Disease Foundation. Many in the Lyme patient community view the ALDF as merely a mouthpiece for the IDSA. (See The bogus grassroots of the American Lyme Disease Foundation. )
Text of IDSA announcement:
IDSA member Eugene Shapiro, MD, FIDSA has been selected to serve on the second session of Department of Health and Human Service's (HHS) Tick-borne Disease Working Group, which resumes its activities with an in-person meeting in Washington, DC on June 4. IDSA engagement in this group is essential to promote evidence-based approaches to treating tick-borne diseases.
The first session of the TBD Working Group began in December 2017 and culminated with the publication of its report in December of 2018.  IDSA supported many of the report's recommendations, including its calls for more funding in areas like tick epidemiology, vector control, and basic research. However, we expressed serious concerns about the report's recommendations to require insurance companies to cover any treatment prescribed for Lyme disease, and to protect physicians from any professional repercussions for administering potentially harmful treatments to patients that have no evidence-based research behind them. HHS did not publicize this report and it has received very little attention from policymakers. 
Seeking confirmation
LymeDisease.org has contacted HHS for clarification, but we have not heard back yet. As of this writing, we do not know who else has been named to the Working Group.