How CDC, NIH & IDSA work together to discredit idea of chronic Lyme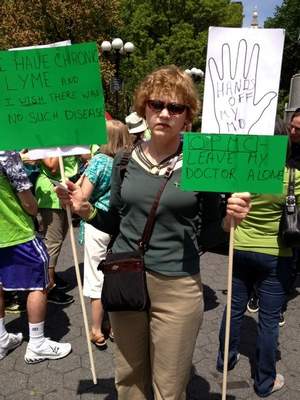 Poughkeepsie Journal: Emails reveal cozy relationship between feds and IDSA, as well as efforts to exclude "Lyme loonies."
.
.
.
.
.
.
.
.
From the Poughkeepsie Journal:
Chronic Lyme disease: Is it real?
Officials say no, but some patients say yes – and demand a say
Written by Mary Beth Pfeiffer, Poughkeepsie Journal, May 19, 2013
It was a throwaway line in an email, as the nation's head of research funding for Lyme disease neared retirement from the National Institutes of Health.
"I will certainly miss all of you people – the scientists," Phillip Baker, the Lyme program officer, wrote a colleague in 2007 at the U.S. Centers for Disease Control and Prevention, "but not," he said, "the Lyme loonies."
Baker's appraisal – culled from 3,000 pages of documents obtained under the Freedom of Information Act and provided to the Poughkeepsie Journal — summed up in two words what physicians and scientists who challenge official policies on Lyme disease are up against.
The so-called Lyme wars – one of the most vigorous and, both sides agree, vicious debates in medicine today – is a lopsided struggle to influence national policy on Lyme disease and, more specifically, to prevail on a single question. Can it be chronic?
Click here to read the rest of the article.
Related articles:
Lyme emails request took five years; officials blame scope and fee waiver.
View the CDC FOIA emails here, by clicking on the red text.