CDC's Lyme article raises scientific and ethical questions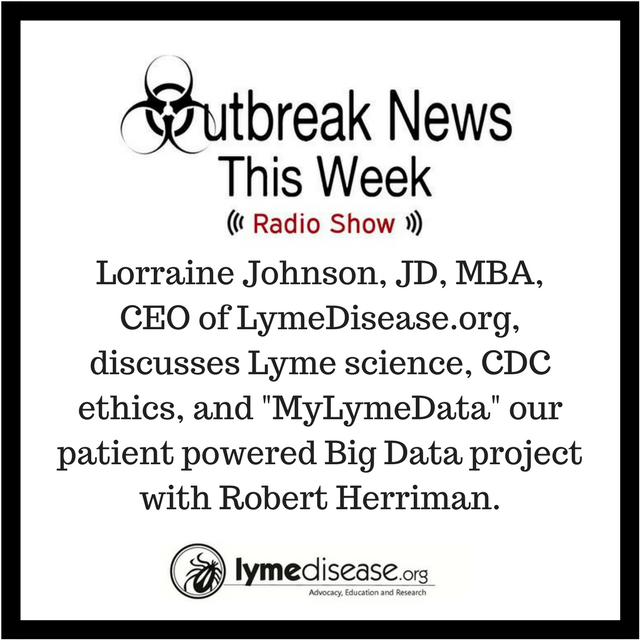 On June 23, 2017, our CEO, Lorraine Johnson, JD, MBA joined Robert Herriman, MPH on the Outbreak News This Week Radio Show to discuss the scientific and ethical issues surrounding the CDC's recent Morbidity and Mortality Weekly Report (MMWR) on the use of IV antibiotics for chronic Lyme disease.
Robert Herriman, Jr., is the Co-founder and Executive Director of The Global Dispatch, and Editor-in-Chief of Outbreak News Today, two news websites dedicated to health with a focus on infectious diseases. Robert is a certified and licensed microbiologist with 30 years experience in the field. He holds a Master of Public Health in Tropical Public Health and Communicable Diseases, as well as a graduate certificate in Diagnostic Parasitology and Medical Zoology.
The interview is a lively and frank discussion about the treatment and diagnosis of Lyme disease–two issues that divide Lyme advocates and the CDC and the Infectious Diseases Society of America (IDSA). Lorraine explains the science of chronic Lyme, the ethics complaint she filed against an Epidemiologist at the CDC, the true rate of adverse reactions to IV antibiotics, the limitations of the CDC 2-tier Lyme test and how it can be improved.
Robert and Lorraine also address the barriers between the IDSA and ILADS treatment philosophy, and how our big data project called "MyLymeData" will empower patients who have been disadvantaged by Lyme and other tick-borne diseases.