New study sheds light on Morgellons as an infectious disease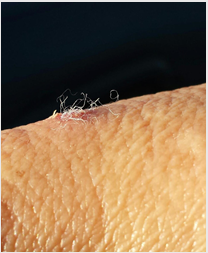 Press release from Charles E. Holman Morgellons Disease Foundation, Oct. 18, 2016:
Morgellons disease is a poorly understood condition characterized by spontaneously occurring, slowly healing skin lesions containing multicolored filaments and accompanied by symptoms such as fatigue, joint and muscle pain and neurological problems, according to a recent report published in the prestigious 'International Journal of General Medicine.'
The review paper titled " Morgellons Disease: A Filamentous Borrelial Dermatitis" was written by Calgary microbiologist Marianne Middelveen and San Francisco internist, Dr.Raphael Stricker of the International Lyme and Associated Disease Society (ILADS). The skin condition is often linked to Lyme disease, a tickborne illness that has reached epidemic proportions throughout the USA.
"This paper provides a unifying view of Morgellons disease," says Cindy Casey Holman, director of the Charles E. Holman Morgellons Disease Foundation(CEHMDF) of Austin, TX. "It includes some new and exciting twists for what we already know and it provides evidence confirming the association between Morgellons disease and Lyme disease."
Previous research funded by the CEHMDF has shed light on the mysterious illness. Rather than textiles, worms or parasites, the characteristic colorful filaments found in Morgellons skin lesions are composed of collagen and keratin produced by skin cells. The filaments can display some hair-like features and the blue coloration is caused by melanin pigmentation. The red coloration remains a mystery at present.
"There are no known blue textile fibers colored by melanin," explains Middelveen "thus Morgellons fibers are of biological origin".
A number of peer reviewed published studies have shown that Morgellons skin lesions are associated with Lyme disease. The causative agent of Lyme disease, Borrelia burgdorferi, and other closely related bacteria have been detected in Morgellons skin lesions. "This finding has been reproduced at four independent laboratories," says Dr. Éva Sapi of the University of New Haven. "Thus the association between infection and Morgellons disease is reproducible if the correct detection methods are used."
Mainstream medicine has been slow to acknowledge advances made in the understanding of Morgellons disease. "Many doctors still think Morgellons disease is caused by mental illness," explains Casey-Holman. "We hope this new article will help doctors understand this mysterious illness so that patients can improve with treatment for the underlying infection."
"Collectively, Morgellons disease research clearly shows a bacterial infective process," states Dr. Randy Wymore of Oklahoma State University. "Despite some obsolete opinions," Wymore continues, "there is zero scientific evidence that Morgellons disease is a psychogenic illness."
To learn more about Morgellons Disease go to: http://www.MorgellonsDisease.org