LYME SCI: Nerve damage shown in patients with chronic Lyme symptoms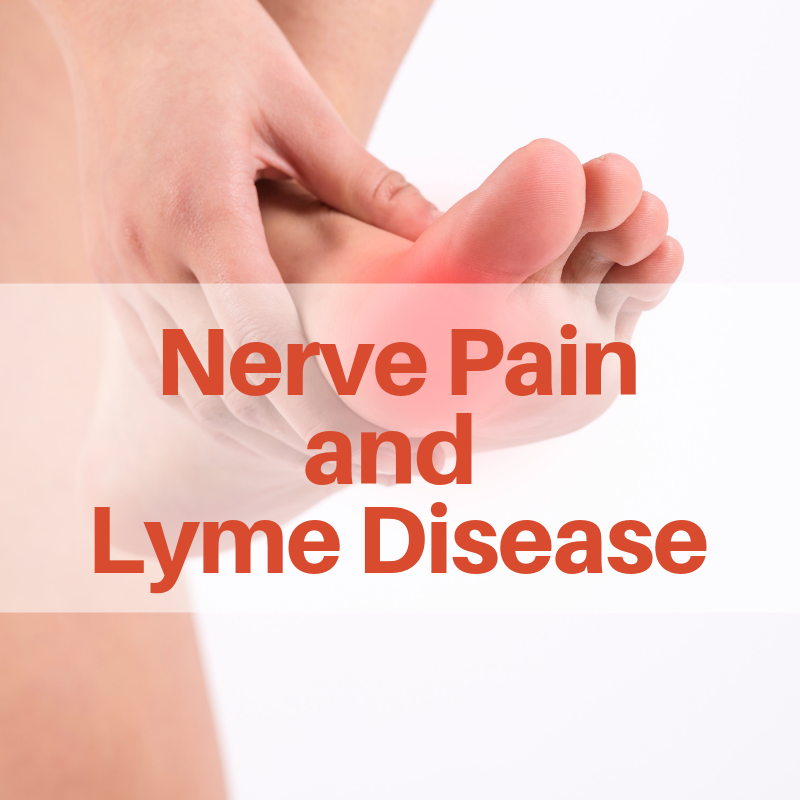 Many Lyme disease patients report severe chronic pain, numbness and tingling, even after they have supposedly "completed" treatment for Lyme disease.
But up until recently, there hasn't been an objective way to measure those symptoms. You had to report them to the doctor, hoping he'd take you at your word about what you were feeling.
New research suggests such sensations may be caused by nerve damage. Additional findings show that decreased blood flow in the brain may also be contributing to "dysautonomia." That's dysfunction of the system that regulates bodily functions such as blood pressure, digestion, and sweating.
Now, a groundbreaking study provides quantifiable, physiological reasons for these chronic symptoms that continue to plague a subset of patients despite treatment for Lyme disease. (I wrote about another recent study showing measurable inflammation in the brains of Lyme patients here.)
Small fiber neuropathy
This new study is from Dr. Peter Novak and colleagues at Harvard Medical School. They set out to determine whether symptoms such as fatigue, cognitive impairment and widespread pain that remain following treatment for Lyme disease are associated with a condition called small fiber neuropathy (SFN).
SFN is caused by damage to nerves that convey pain and temperature sensations from the skin to the brain, as well as those involved in breathing, heartbeat, digestion and bladder control.
Even when Lyme is treated early, the CDC states that 10% – 20% of patients will be left with prolonged, sometimes disabling, symptoms. If not treated until later in the illness, the recovery rate is even worse, with estimates of up to 50% of patients remaining ill.
When such symptoms as brain fog, widespread pain, and fatigue continue for longer than six months after treatment, some researchers call it post-treatment Lyme disease syndrome (PTLDS).
[Editor's note: LymeDisease.org recommends dropping PTLDS as a diagnostic term. Read more here.]
How does Lyme affect the nervous system?
Borrelia, the spirochete that causes Lyme disease, can invade the nervous system, creating a condition called Lyme neuroborreliosis.
In the central nervous system, the infection can cause meningitis (swelling of the brain), and damage various nerves in the brain or brainstem. In the peripheral nervous system, the infection can result in pain that radiates along sensory nerves.
The exact reasons why some patients get better with treatment and other patients remain ill is unclear. The potential mechanisms may include permanent damage from infection, neuroinflammation, autoimmune reactions, or persistent infection.
As Professor Holly Ahern explains, the main problem with research into so-called "PTLDS" is the absence of an accurate blood test or biomarker. Researchers have no way to determine if persisting infection is the cause of the continuing symptoms.
Dr. Novak and his team set out to find objective measures. "We know these patients are suffering. The next question is how do we treat them?" says Novak.
"The most valuable studies are those that give us a biomarker, something we can measure, so that when we treat them, we can look objectively to see if they get better or not."
The study
The researchers screened 132 Lyme patients. Of these, only 10 participants (5 women, 5 men) met the criteria for PTLDS used by the Johns Hopkins Lyme Disease Clinical Research Center. These criteria include:
A documented history of Lyme disease that satisfies the CDC criteria,
A combination of fatigue, cognitive complaints and chronic widespread pain that persists for six months or more, after completing treatment for Lyme disease,
An absence of other disorders that could explain the complaints associated with PTLDS
All 10 patients in Novak's study had received three weeks of oral doxycycline. Because of persisting symptoms, all 10 had also been treated with additional antibiotics.
To establish whether SFN might be causing continuing symptoms, study participants were given skin biopsies and other evaluations.
The most commonly reported symptoms were:
Aching pain (10:10)
Numbness, pricking sensations, lightheadedness, dry mouth or eyes (8:10)
Feet colder than the rest of body (7:10)
Pale or blue feet, burning pain, lancinating (stabbing) pain (6:10)
Decreased sweating at feet (both at rest & after exercise or hot weather) (5:5)
The results
The results of the study are striking. All 10 participants tested positive for SFN and decreased blood flow to their brains.
Notably, all 10 participants were shown to have normal large nerve fiber functions. This means that standard nerve conduction velocity tests—which measure how fast an electrical impulse moves through a nerve—will not be a good diagnostic tool for these patients.
Dr. Novak says he had anticipated finding some SFN, but was surprised by the reduced velocity in cerebral blood flow found in all 10 participants.
Based upon the "horrible pain" reported by these patients, Novak explains, "we expected them to have damage of the nerves. But we were surprised with the low cerebral blood flow measured with the Doppler test, which was significant."
What this means for patients
The symptoms of chronic Lyme overlap with many other illnesses, like multiple sclerosis and fibromyalgia. So, it's important to have tests that can detect all stages of Lyme and differentiate it from other conditions.
In the future, the SFN biopsy may be a good biomarker for Lyme disease. Typical symptoms of SFN include numbness, tingling or "pins-and-needles," electric shock-like pain, burning/freezing sensations, or reduced sensation to touch.
Likewise, low cerebral blood flow, as measured by the Doppler, may be a good biomarker for Lyme patients with postural orthostatic hypotension (POTS) and dysautonomia.
The search for better diagnostics
While the results of this study were remarkable, Dr. Novak cautions, "It was a small group."  He explains, "We want to do the study again… We have many more patients that don't meet the CDC criteria. Next time we will look at these patients. The next question will be how do we treat them."
I and many other within the Lyme community are encouraged to see so many talented researchers devoting themselves to finding answers. The discovery of more sensitive and accurate biomarkers for Lyme is an important step towards better treatments for people with tick-borne illnesses.
LymeSci is written by Lonnie Marcum, a Licensed Physical Therapist and mother of a daughter with Lyme. Follow her on Twitter: @LonnieRhea  Email her at: lmarcum@lymedisease.org .
References
Novak P, Felsenstein D, Mao C, Octavien NR, Zubcevik N (2019) Association of small fiber neuropathy and post treatment Lyme disease syndrome. PLoS ONE 14(2): e0212222. https://doi.org/10.1371/journal.pone.0212222
Personal communication, March 12, 2019. Peter Novak, MD, PhD, Division Chief, Autonomic Neurology, Director, Autonomic Laboratory, Department of Neurology, Brigham and Women's Faulkner Hospital, Assistant Professor of Neurology, Harvard Medical School.