NEWS: New scientific findings about Morgellons disease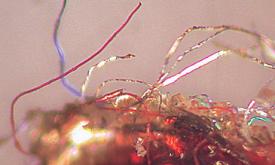 Morgellons is a mysterious condition that is sometimes called the "fiber disease." Along with other symptoms, sufferers will find what appears to be small fibers sticking out of their skin. Many people with Morgellons also have Lyme disease. Mainstream medicine tends to marginalize these patients, often labeling them as "delusional." Now, a new study shows a connection between Morgellons and an infectious disease which affects cattle called bovine digital dermatitis. Researchers examined the diseased cows and found fibers very similar to those on Morgellons patients.
Press release from the Charles E. Holman Foundation:
New Scientific Study Supports Reality of Morgellons Disease
Connection Found Between Infectious Disease Afflicting Cattle and "Fiber Disease" Affecting Thousands of People Worldwide, Announces Charles E. Holman Foundation
Austin, Texas (PRWEB) November 15, 2011
The mysterious human illness known as Morgellons disease resembles a well-known infectious disease found in cattle, according to a new research report published Nov. 14 in the prestigious online journal Clinical, Cosmetic and Investigational Dermatology.This news is announced by the Charles E. Holman Foundation, a grassroots activist organization that supports research, education, diagnosis and treatment of Morgellons disease.
Studied since the 1970s, the veterinary disease known as bovine digital dermatitis, or hairy heel warts, can cause lameness, decreased milk production, weight loss and skin lesions just above the hooves of affected animals. Examination of these lesions by researchers has revealed fibers of varying colors found to be very similar to those seen on the skin of people worldwide who suffer from Morgellons disease.
A link to the free report, entitled "Filament formation associated with spirochetal infection: a comparative approach to Morgellons disease," can be found on the home page of the Charles E. Holman Foundation website.
Often labeled "delusional" by their medical care providers, Morgellons patients may soon be vindicated by this groundbreaking discovery.
"Morgellons disease and hairy heel warts both appear to be evolving illnesses characterized by the appearance of unusual filaments in skin lesions," said co-author Dr. Raphael Stricker, a renowned Morgellons expert who has treated hundreds of people with this disease at his San Francisco, CA-based practice. "The similarity between the two diseases provides new evidence that Morgellons is an infectious illness–not a delusional disorder. Further comparison of these conditions may help shed light on the mystery of what Morgellons is, and eventually how to cure it."
Principal author Marianne Middelveen, a veterinary microbiologist from Calgary, Alberta, is credited with finding the connection between the two diseases. She had heard about hairy heel warts from veterinarians, farmers and scientists, and knew they had looked for a cure by examining microorganisms in the afflicted cattle. Middelveen took a different approach by focusing her research on the fibers seen on the animals' skin. After discovering that these unusual filaments showed striking similarities to those found in Morgellons patients, she contacted Dr. Stricker. Their joint research identified many common features in the composition and infectious associations of the fibers affecting both cattle and humans.
"We are getting closer to sorting out the mystery of Morgellons disease," said Dr. Stricker. "Sometimes it takes a detective with a new perspective to solve a mystery."
###