Out of the Woods: Healing Lyme disease–Body, Mind & Spirit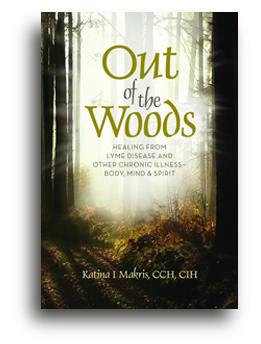 A personal memoir of recovering from Lyme disease.
In the summer of 2000, Katina Makris was a homeopathic healer with a thriving New Hampshire practice, the author of a popular healthcare newspaper column, a loving wife and mother. Then, out of the blue, her health went south, fast.
Overnight, she became incapacitated by weakness, fatigue, brain fog and dizziness. Abruptly, she was incapable of earning a living or caring for her young family. Neither her own tried and true natural remedies nor a backup course of antibiotics did anything to stem her overwhelming symptoms. And nobody she consulted could figure out the cause.
Eventually, she was diagnosed with high levels of Epstein Barr Virus (EBV), and treatment for that offered some relief. But then her old symptoms—along with new ones—came crashing back even bigger than before.
Though doctors found nothing amiss except the EBV, she knew something was gravely wrong. Finally, in 2005, she found a savvy practitioner who recognized untreated chronic Lyme disease. He started her on the course to wellness.
"Out of the Woods: Healing Lyme Disease—Body, Mind, & Spirit" is her very personal memoir of those difficult years. At one point, she writes, "I (felt) stranded, literally and figuratively, deep in the woods, deep in the illness, deep in my loneliness."
Makris and her doctor used alternative treatments like cat's claw, homeopathics and a Rife machine to beat back the Lyme infection. She did not use antibiotics. Alas, she gives few specifics of her actual treatment protocol, which some readers will find disappointing.
As her health improves, she explores spiritual, intuitive healing, and the therapeutic benefits of artistic expression. "Lyme takes the physical, mental and emotional stuffing out of so many people and their caregivers," she asserts. "Tending to the broken spirit is just as critical as mending the broken body."
At the end of the book, she offers a "Nuts and Bolts" reference section, offering information about Lyme symptoms, testing, and a variety of treatment options.