LYMEPOLICYWONK: 67 Groups Submit IDSA Lyme Guidelines Process Comments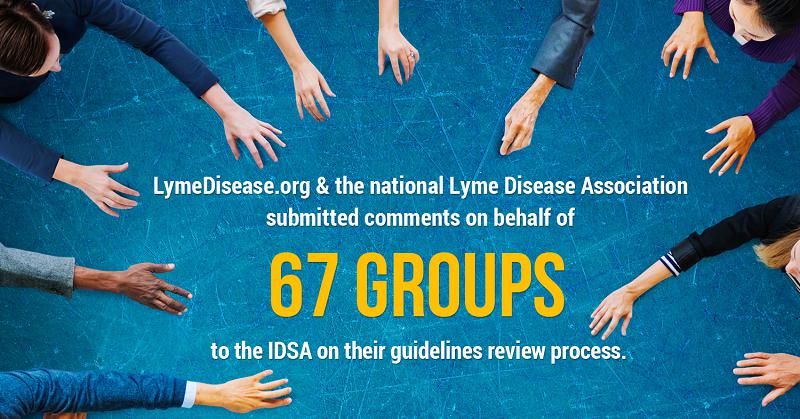 LymeDisease.org and the national Lyme Disease Association filed comments on behalf of 67 patient groups across the nation. LymeDisease.org also launched a patient survey on March 28 to solicit patient views. It drew more than 5,500 responses. We included findings from the survey in the formal comments we filed with the IDSA.
On March 9, 2015, the Infectious Diseases Society of America announced that it will update its Lyme disease guidelines. The IDSA provided a 30-day window for the public to comment on its guideline development process. This period closed on April 9.
The comments highlighted a number of flaws in the process, including failure to conform with the Institute of Medicine standards on creating trustworthy guidelines. The IOM standards require that the panel includes populations expected to be affected by the guidelines. However, this panel does not include any Lyme patients, any physicians who treat them, or even the full spectrum of views held by researchers.
In addition, although the guidelines are sponsored by three seemingly independent organizations (the IDSA, the American College of Rheumatology, and the American Academy of Neurology), the fact is that all of these organizations had members who were investigated by the Connecticut Attorney General for antitrust violations in connection with the IDSA 2006 Lyme guidelines.
WE CONCLUDE WITH THE FOLLOWING RECOMMENDATIONS:
The current Plan fails to provide the type of process integrity essential to creating trustworthy guidelines. We believe that the Plan to should be revised to achieve the following goals.
The IDSA/AAN/ACR panels should be balanced and represent scientists and physicians from both opposing Lyme paradigms.
Robust patient representation (2 or more) is important and should not be token. Patients should be empowered and prepared patients who represent the population affected by Lyme disease.
Consensus should not be obtained by excluding people who disagree.
Controversies and disagreement should be acknowledged. Minority viewpoints should be published with the guidelines.
A public docket of all comments should be maintained and be publicly posted on the IDSA website.
The IDSA/AAN/ACR guidelines should be reconciled with the guidelines of ILADS.
All value judgments by the panel, particularly those pertaining to the patient's role in risk/benefit assessment, should be carefully delineated together with the basis for such judgment.
Guidelines should undergo rigorous external peer review by all interested parties. Responses to comments should be made public.
We will be publishing the results of our survey soon.
The LYME POLICY WONK blog is written by Lorraine Johnson, JD, MBA, who is the Chief Executive Officer of LymeDisease.org.You can contact her at lbjohnson@lymedisease.org. On Twitter, follow her @lymepolicywonk