Lyme Disease Challenge's third year is off to a good start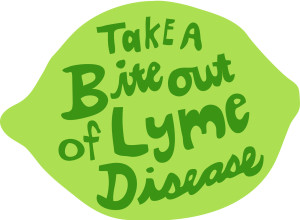 Press release from the Lyme Disease Challenge:
Lyme disease takes a "Big Bite" out of people's lives, families and finances. Indeed, those suffering from Lyme Disease and co-infections are challenged in all aspects of diagnosis, treatment, and research funding. To stop this ever-increasing epidemic, we desperately need increased research and education.
The 2017 Lyme Disease Challenge is off to a phenomenal start for Lyme Disease Awareness Month, with participation by public figures such as Mark Hamill, the Cast of Modern Family, Professional golfer Jimmy Walker, Ally Hilfinger and more!
The Challenge has also been embraced by the media as a lighthearted way to spread awareness about an escalating, serious health issue. The global campaign has been supported in more than 45 countries with 35 languages represented.
While the primary goal of the Lyme Disease Challenge is to spread much needed awareness, we are also raising funds to benefit the International Lyme & Associated Diseases Educational Foundation (ILADAF), a 501(c)(3) non-profit of ILADS Lyme Society.
.
The 100% volunteer Lyme Disease Challenge team raised a total of over $100,000 to support doctor training and research through ILADEF, all on a zero-dollar budget!
"The Lyme Disease Challenge empowers those in the Lyme Disease community to share their story using the power of social media" states attorney Melissa Bell, a Challenge organizer and President of Florida Lyme Disease Association.
Bell adds, "Social media has provided Lyme sufferers with a virtual lifeline for support, as well as a platform for advocacy to bring about greater awareness. Advocacy is critical considering how many patients, including children, are slipping through the cracks while we wait for adequate research funding to develop more reliable diagnostic tests and more effective treatments for late stage Lyme disease and co-infections."
.
Challenge co-organizer and New Yorker Lisa Kilion remarks: "As a parent and a teacher, I am very concerned with the effect of Lyme disease on our children. Children stricken with Lyme appear to be 'normal' on the outside and are judged accordingly, yet can suffer from headaches, light/sound sensitivity, joint pain, brain fog, depression and memory issues. Even the majority of the medical community does not yet comprehend the enormity of these children's trials…and their strengths."
.
With your help, we truly can make a meaningful difference for the millions suffering from Lyme disease.