TOUCHED BY LYME: Unraveling the Lyme-autism connection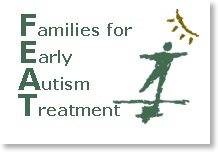 This doctor finds about 20% of her autistic patients turn out to have Lyme disease, and for many of them, Lyme treatment helps their autism symptoms. She'll speak in Sacramento March 21.
Dr. Lynne Mielke is a psychiatrist who specializes in the biomedical treatment of children with Autism Spectrum Disorders. She finds that many of her patients turn out to have Lyme disease.
"If the child has autism from birth, many times it's because they actually inherited an infection from their mother," Dr. Mielke said in a 2011 TV interview. When treated for Lyme, she said, some or all of their autism symptoms recede or even disappear entirely.
Dr. Mielke will be a guest speaker March 21 at a meeting in Sacramento sponsored by FEAT, Families for Early Autism Treatment. She'll be joined at the podium by Tina Hendrix, a co-founder of FEAT, whose 20-year-old daughter Mary has been diagnosed with Lyme-induced autism.
Both Dr. Mielke and Tina Hendrix's family were featured in a TV news segment last fall.
The event is free and open to the public.
Wednesday, March 21, 2012
7:00 pm to 9:00 pm
MIND Institute Auditorium
2825 50th Street
Sacramento, CA 95817
Please park on 50th Street
Click here for more information at the FEAT website.
TOUCHED BY LYME is written by Dorothy Kupcha Leland, LymeDisease.org's VP for Education and Outreach. Contact her at dleland@lymedisease.org.