TOUCHED BY LYME: Portraits of Lyme with words and pictures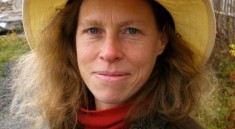 (Guest blog) Using art and writing to help ourselves and each other.
Emily Bracale is an artist, writer, teacher from Bar Harbor, Maine. Her book, In the Lyme-Light: Portraits of Illness and Healing includes art work and writings she created to help convey the internal experience of living with Lyme disease.  The following is an excerpt from her website, which discusses how the book came to be.
.
.
A few years ago my life consisted of treading water from minute to minute, hour to hour – getting through breakfast, getting to lunch, getting to dinnertime, getting the kids to bed, finally lying down but not sleeping well; too much anxiety, weird electrical buzzing sensations, crazy unfocused thoughts, and chronic physical pain. No one realized how sick I had become because gradually, over seven years, I had dropped out and drifted away from almost all intimate contact with other people. 
.
I ignored the escalating severity of physical and neurological problems until there was considerable damage to the nervous system and a compromised immune system.  By early 2009 my physical, social, personal, financial, and professional life had all "bottomed out."  Even my lifelong love of making art was gone.  It felt as if my old life was over, but I couldn't see any future.
.
Then that spring, through a series of fortunate events, I began to suspect that I did have Lyme – possibly for half my life!  I began a crash course of learning about the disease and how to self-advocate to pursue the treatment I needed. 
.
I was astonished to learn how serious Lyme could become and that it is a subject of incredible controversy.  I began trying to share what I was going through with family, friends, and doctors, cautiously revealing some of the darker side of my life for the first time. 
.
Talking with other Lyme patients let me know that I was going down the right path. After asking about my symptoms one called me a "poster child" for Lyme and told me to seek medical help immediately. 
.
Finding out about Lyme disease was frightening, but it was also an epiphany, a light in the darkness, a sudden "lightening of the karmic load."  It explained so much.  I felt as if I were waking up from a long and crazy nightmare.  
.
Starting treatment that summer made immediate positive changes but it didn't exactly make my body "all better" since so much was out of balance.  However, I knew I was in recovery when inspiration for this art and writing began coming to mind.
.
The art that emerged was different from any I'd done before.  Most of my work had been careful representations of outdoor scenes, and cultural scenes from traveling.  The new work portrayed internal landscapes and internal journeys. As I experienced the creation of each piece and studied each board, it became clear that I needed to add some written explanations, so I started writing as well.
.
This was a hugely satisfying process of expression and discovery.
.
Eventually, twenty-six paintings and eighteen pages of notes became the first Lyme-Light exhibit, held at College of the Atlantic in Bar Harbor, Maine.  It was a big "coming out" experience.  Much of what I shared was news to my family, friends, and neighbors. 
.

People knew me as a student at the college, an elementary school teacher, a private art teacher, a home schooling parent, and an artist who painted watercolor landscapes. Now I shared publicly what I had recently been afraid to admit even to myself. 
.
Paradoxically, the degree to which the work was subjective and personal was the degree to which it made an impact.  Once it was up on the walls word spread and people asked for interviews, a website, a book. Many people with Lyme or who had friends and family with Lyme said that this story resonated with their own experiences.  The bizarre descriptions and images I shared met with grateful exclamations of recognition.  Several people decided to get tested or seek treatment.  
.
Sharing my story made me let go of a tight hold on individual suffering and put me in touch with a sense of connectedness and strength.  Many people have shared their own stories and encouragement in return.  I feel that we're pioneers in the larger story of Lyme, giving "Lyme-Light" new meaning.  We're bringing to light our own stories, and offering the light of awareness to our communities far and wide. 
.
Here are two paintings from the book, followed by her written explanation.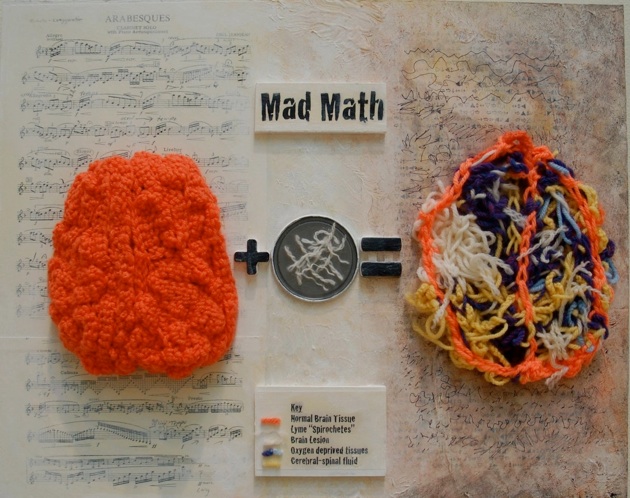 Mad Math, 2010 (acrylic, yarn, paper and metal on birch – 16" x 20")
"…until that year I had thought of myself as a confident, dedicated, and very capable student.  Following lectures became ever more difficult.  Complex analysis of ideas under pressure, such as during essay exams, and committing new facts to memory became more difficult.  I couldn't remember things well nor learn quickly anymore; it all became a huge effort.  Instead of my usual two to three hours of practicing clarinet every day, I would often sit in the practice room zoning out, with the instrument on my lap, staring at the wall."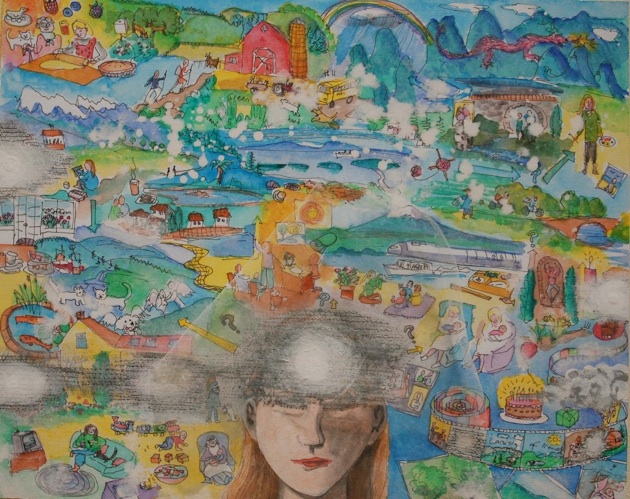 Brain Fog, 2010 (acrylic and cloth on art board – 16" x 20")
"This painting portrays more properties of 'brain fog.'  The images are all scenes from my past, so obviously I could remember them.  Memories do not seem to become totally lost, but rather temporarily obscured, as if behind a veil.  To put it another way, it is as if the "Files" still exist but the "Search/Find" command has been impaired."