Biking from Kentucky to California for Lyme awareness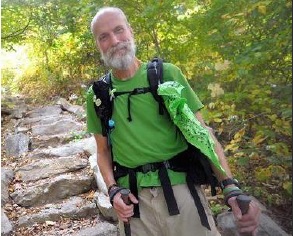 Press release, July 31, 2015:
Logan McCulloch, a Lyme disease survivor and avid hiker, will ride his bike from Kentucky to California, starting this morning at 10AM, as part of his "Trek for Truth" public awareness
When the CDC issued a Lyme disease alert for 17 states earlier this month, Louisville resident Logan McCulloch was one of many local Lyme disease survivors surprised to learn that Kentucky, Indiana, and other states were not on the list. Convinced the CDC is sending the wrong message, McCulloch decided to send a message of his own by riding a bicycle across the country, and visiting Lyme disease support groups in every state. His "Trek for Truth" bike ride begins this morning in downtown Louisville
When Logan McCulloch begins Louisville, KY, July 31st, 2015 his cross country bicycle ride at 10AM this morning, leaving from Waterfront Park, he'll leave to the cheers of dozens of friends and supporters who believe in his mission – to convince anyone who will listen that Lyme disease is national problem, flourishing in Kentucky, Indiana, and dozens of other states not listed in the recent CDC health alert.
Some supporters of McCulloch's "Trek for Truth", struggling with the physical and financial toll of the disease, plan to wear lime green T-shirts to this morning's send off and rally, a show of support for a man who has become a crusader against the Lyme disease since he contracted the disease in 2011.
"I was hiking with my son in Mammoth Cave National Park when my life changed forever", said McCulloch. "Like a lot of people bitten by ticks that carry Lyme disease, I was ignorant. I suffered for months with joint aches, loss of energy, and it even memory loss. I had no idea what I was suffering from and neither did doctors. I was misdiagnosed several times."
Unfortunately for McCulloch, an accurate diagnosis did not happen quickly; he lost his job as a Red Cross administrator after a year of treatment. Now recovered, McCulloch is on a mission to encourage people in every state to that they should take precautions to make sure they're not bitten. And if they are bitten, they should take antibiotics immediately to ensure they do not suffer long term health problems as he did.
Two years ago, during his first "Trek for Truth", McCulloch hiked more than 1,900 miles along the Appalachian Trail to raise awareness about Lyme disease in the Northeast, Midwest, and Southeast. Today, however, the disease poses a national threat. In Kentucky and Indiana, the number of confirmed Lyme disease case has doubled each year for the past three years. Three years ago, there were only 30 members of a Louisville Lyme disease support group; today there are more than 100. Nationally, the number is shocking. More than 300,000 new cases of Lyme disease are reported each year.
"Despite these numbers, I'm amazed at the amount of ignorance and risky behavior I see every day" said McCulloch. "Whenever you're in or near a wilderness area, whether it's for a hike with your dog or a picnic with your family, you have to take precautions." The precautions McCulloch encourages include:
Clothing – Have ready-to-wear insect-repellent clothing for every family and every garment (shoes, socks, pants, shirts, etc.). Insect Shield is the industry leader. The company's permethrin-treated clothing is EPA registered to repel ticks (as well as a variety of other dangerous insects.) The repellency is odorless, invisible and long-lasting. Learn more at www.InsectShield.com
Yard – Ticks are not out in the middle of your lawn, they live where yards border wooded areas, or anywhere it is shaded and there are leaves with high humidity. Place a layer of wood chips between your grass yard and the woods edge. Ticks are attracted to the wood chips because of the shade and moisture it provides.
Tick Checks – Do periodic tick checks (on your, your children and your pets) and carefully remove any found. (Wear light colored clothing so ticks are easier to find.)
Hiking or Biking Precautions – When on a hike, bike, or walk try to remain in the center of a trail in order to minimize your exposure. Remember – ticks cannot fly, they crawl up. Avoid sitting directly on the ground, woodpiles or fallen logs – areas where ticks love to live.
Remove Ticks Safely – to safely remove attached ticks, first disinfect the area with an alcohol swab. Next, using a pointy tweezer, grab the tick "head" as close to the skin as possible and simply pull straight out. Remember to disinfect the bite site again after pulling the tick out.
After leaving downtown Louisville this morning at 10AM (Eastern), McCulloch will bicycle through Indiana, Illinois, Missouri, Kansas, Colorado, Utah, Nevada, and California, traveling along the winding Transamerica Trail, stopping in cities to meet with Lyme disease support groups in each state.
Armed with a GoPro video camera, McCulloch plans to record interviews with Lyme disease survivors and post their stories along with regular updates about his travels to his website, TrekForTruth.org. McCulloch plans to finish his 10-week "Trek for Truth" Lyme disease awareness campaign in San Francisco in Mid-October. To see videos and updates during his "Trek for Truth," visit: TrekForTruth.org.