TOUCHED BY LYME: Let Justina go home with her parents—now!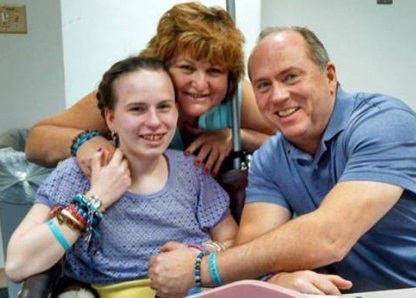 The next step in the chilling story of Justina Pelletier is a court hearing in Boston on March 17.
Fifteen-year-old Justina Pelletier has not been diagnosed with Lyme disease. Nevertheless, what's happening to her at Boston Children's Hospital rightly strikes fear in the hearts of parents of children with Lyme disease, as well as other illnesses that don't fit comfortably into a tidy diagnostic box.
Here's the background:
Justina was diagnosed with mitochondrial disease by doctors at Tufts Medical Center and was under their care. She took medicine they prescribed and underwent surgeries and treatments for the illness. Then, in February 2013, she got very sick with the flu, and her family took her Boston Children's Hospital. They thought the doctors would help them. Instead, things went horribly wrong.
Turns out, doctors at BCH didn't agree with the diagnosis of mitochondrial disease, and decided her symptoms were in fact psychologically based, accusing Justina's parents of medical child abuse.
Justina was put under the custody of the state of Massachusetts and kept in a psychiatric ward. Doctors cited Justina's "regressive behavior" and "both parents' resistance towards recommended treatment plans" as why they lost custody. After the Boston Globe reported the story, the judge imposed a gag order on Justina's parents.
For the past year, Justina and her parents have only been allowed to see each other for one hour a week, under supervision.
Her father, Lou Pelletier, recently broke the gag order and spoke to the media, because he feels his daughter's health is deteriorating so rapidly that she might die.
Though it doesn't usually go this far, parents of children with Lyme disease are often viewed with suspicion by health authorities, medical personnel, school officials, and sometimes their neighbors and family members.
Sometimes their sick children are reported as truant. Sometimes the parents are reported to Child Protective Services. Parents of children with Lyme disease are often told by mainstream medicine that their kids' health problems are psychologically based–and often the parents are blamed. And certainly, any of us who have taken our children to Lyme-literate doctors "resist" treatment plans put forth by Lyme-illiterate ones. So, by the standard applied in Justina's case, any of us could find ourselves in the same kind of trouble.
The next step in Pelletiers' legal process is a custody hearing on Monday, March 17, at 2 pm at the Suffolk County Courthouse in Boston. Supporters of Justina and her family will conduct a prayer vigil at 1 pm, on the steps of the courthouse.
More information at www.justiceforjustina.com.
I live at the other end of the country and cannot attend. If I could, I'd be there with bells on. I hope those of you who are in a position to do so will turn out to show support.
It's not just the Pelletier family's fight. It's all of ours.
The following links have more information about Justina's case:
TOUCHED BY LYME is written by Dorothy Kupcha Leland, LymeDisease.org's VP for Education and Outreach. Contact her at dleland@lymedisease.org.