TOUCHED BY LYME: Don't judge a book by the length of a cab ride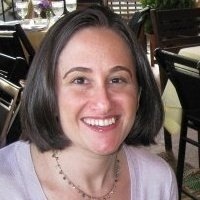 When you don't have a prop to signify physical illness. By guest blogger Jennifer Crystal.
As a writer, I've always liked the adage, "Don't judge a book by its cover." As a patient with chronic illness, the saying has taken on new, heightened meaning. It started several years ago at my sister's college graduation. I was trudging up a long hill in step with hundreds of other siblings, parents and friends, all headed to hug the newly minted graduates waiting at the top. Traveling to the college campus had been my first real trip in years, so the weekend was especially tiring for me. The long ceremony, complete with bagpipe finale, grated on my physical and neurological symptoms. I slowly made my way up that hill because I was determined to see my sister, but what I really needed was a nap. It wasn't long before I started to slip out of step with the pack, lagging behind most of the parents, even getting lapped by some of the grandparents. I looked longingly at a golf cart that whizzed past us.
"Well those people certainly don't look like they need a lift," my father, who had kindly slowed his gait to match mine, opined. The riders were a motley crew: some my age, some elderly, all dressed in bright spring suits and colorful dresses. I didn't notice much else about them, like whether one held a cane, or if a wheelchair was folded up in the back of the cart. It didn't matter.
"We don't know that," I replied. "There could be any number of reasons they can't walk up this hill. I don't look like I need a ride, either, but I sure could use one." Dressed in a strapless white sundress, little pink heels and stylish sunglasses, I looked like any other thirty-year-old. My hair was blown out, I walked slowly yet steadily, and unless someone had come right up close to peer behind my sunglasses, no one could see the bags under my eyes. Unless someone had climbed inside my head, no one could feel its frazzled throbbing, the sound of the bagpipes still echoing.
Unfortunately, tick-borne diseases fall under the umbrella of invisible illness. Some people with severe physical symptoms have a cane or wheelchair, but most of us don't have a physical prop to signal that something is wrong. A cast or crutches can elicit great sympathy; years ago, when I was on crutches following knee surgery, complete strangers would ask if I needed help. Without an exterior marker of interior pain, patients with invisible illnesses are often unfairly judged.
I had this experience just a few weeks ago when I was, ironically, on my way to an appointment to discuss Lyme disease awareness efforts in Boston. The meeting spot was a half mile from my apartment. I am, thankfully, much stronger today than I was at my sister's graduation, and can usually walk a half mile and then some without tiring. That day, though, it was nine degrees outside. The wind whipped, making it feel that much colder. Like many Lymies, extreme temperatures tend to cause my symptoms to flare, so I decided to hail a cab.
"What?" the driver practically shrieked when I told him my destination. "That's, like, a block and a half away."
"It's actually half a mile," I said sheepishly. The cabbie rolled his eyes and spun the car around sharply, pointing us in the right direction.
Shame burned in my cheeks. What must I have looked like to this man, in my leather boots and wool overcoat? He probably thought I was some haughty lady who couldn't be bothered to walk a few blocks when it got a little chilly out.
All the way along the seven or eight block journey, my driver muttered under his breath about the absurdity of this ride. I crouched lower in the back seat, wishing I'd gotten out at his first growl, wishing I hadn't given him my business at all. Glowering, I stared at the back of the driver's head. As he brought his right hand up to jerk the steering wheel, I noticed a brace on his wrist. It was hard and black, the kind used for hairline fractures or sprains. I imagined the man might be in some pain as he swerved us in and out of traffic, but my sympathy for his situation was, by that point, pretty low.
When we arrived at our destination, I handed the driver exact change for the fare. Then I leaned across the plastic divider so he would be sure to hear me.
"Here's your tip." He turned, palm outstretched, expecting me to slip him a few more bills. But my hands were by my side, my wallet already zipped back in my purse. I simply said, "I see that you have a brace on your arm. I don't have a brace, or a cane, or a wheelchair, but I do have a chronic illness that makes it very difficult for me to walk any distance—even a short one—in this type of weather. My tip to you, sir, is: don't judge the people who get in your cab. You have no idea what their real story is."
With that, I got out, slammed the door and continued on to my meeting. I was more than ready to discuss spreading Lyme awareness, and now had a story to share for it.
Lyme survivor Jennifer Crystal is pursuing a Masters in Creative Writing at Emerson College, in Boston. Her website is jennifercrystal.com. Email her at jencrystal5678@gmail.com.