Horowitz talks Lyme with Katie Couric Oct 9; he'll be at San Diego Lymewalk Oct. 19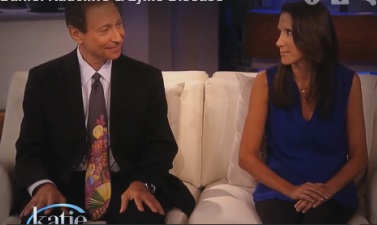 Lyme-literate MD Richard Horowitz and Lyme survivor Kelly Downing will be featured on Katie Couric Oct. 9. Dr. Horowitz will also be a speaker at the San Diego Lymewalk and Rally ten days later.
Dr. Richard Horowitz, one of the nation's top Lyme-treating specialists, will appear on the Katie Couric show Wednesday, Oct. 9.
Horowitz, of Hyde Park, New York, has treated more than 12,000 chronic Lyme patients. He is the author of the new book, Why Can't I Get Better: Solving the Mystery of Lyme and Chronic Disease. He is joined on the show by Lyme survivor Kelly Downing.
Actor Daniel Radcliffe is on the same show, but he will NOT be discussing Lyme disease. (The promos from the Katie Couric show make that a bit confusing.) Click here to see promotional clips for the program.
Ten days later, Dr. Horowitz will speak at the San Diego Lymewalk and Rally, which takes place at a park next door to the annual ILADS medical conference. He'll be bringing advance copies of his book (not available elsewhere until November) and you'll have an opportunity to purchase a signed copy.
Click here for more information about the San Diego Lymewalk.