TOUCHED BY LYME: Re-cap of San Francisco IDSA protest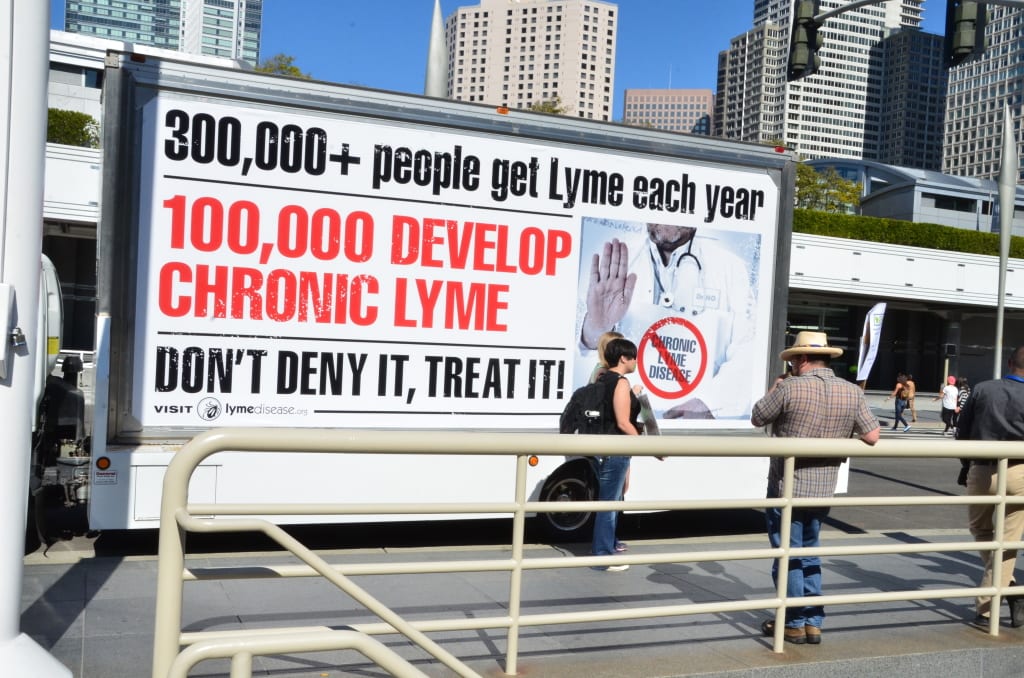 How a fire alarm, a message truck, a couple hundred folks with signs and stories, and a "Lyme rapper" came together at the IDSA annual conference.
So I drove my minivan up to San Francisco's Moscone Convention Center on the morning of October 5. It was full of sound equipment, posters and a couple of strong young men who were going to help me unload everything and set up for our protest demonstration in front of where members of the Infectious Diseases Society of America—the folks who make things so difficult for people with Lyme disease—were meeting. When, to our surprise, we saw hundreds (maybe thousands?) of people standing around outside.
Who were they? Couldn't be protesters. Nary a Lyme-green T-shirt in sight. Turns out, an electrical fire had forced the evacuation of the building. Conference attendees were just hanging out in the bright California sunshine, a perfect audience for our message truck that had been circling Moscone Center since the event opened on Wednesday.
As we set up our stuff, a funny thing happened. The evacuees drifted over to watch us. They'd point to the truck or one of our signs: Why are you protesting about Lyme disease? They'd see a stack of The Lyme Times: Can I have one of those? An ID doc from the Netherlands wanted his photo taken with someone wearing a "Ticks Suck" T-shirt.
This was engagement with IDSA members on a one-to-one level! About a dozen of us fielded questions that kept coming. As more protesters showed up, they spoke with the doctors too. Most of the docs I talked with seemed mystified that there was any controversy about the IDSA and Lyme disease. They asked questions and listened to answers.
I posed this hypothetical to an ID doc from Texas who said she occasionally treats Lyme: What if your Lyme patient was improving on antibiotics, but wasn't well yet? Should you be allowed to exercise your clinical judgment to continue treatment beyond the IDSA-mandated 28 days? Her response: of course. My response: you and I agree on that.
I spoke with doctors from Europe, India and throughout the US. And a university-based scientist who once did Lyme disease research "until the money for that dried up." They were all unaware of any controversy over the IDSA Lyme guidelines.
In the meantime, LymeDisease.org's Lorraine Johnson was approached by some ID docs who definitely ARE aware of the controversy:  Dr. Paul Lantos (who sat on the 2009 IDSA antitrust review panel), Dr. Paul Auwaerter (the IDSA spokesperson for Lyme disease), and another IDSA member, Dr. Burton Golub. Lorraine reports they had a spirited discussion about a variety of guidelines-related topics. (Opening the door for further dialog? Who knows?)
Most of our folks didn't start arriving until the posted time of 11 a.m., as the ID docs were returning to their building. The dynamic shifted from a teach-in to a rally. There was a lot of meet-and-greet by people who knew each other only from Facebook and on-line support groups. Planned speeches by Lorraine Johnson, Lyme activist/disability attorney Barbara Arnold, and (ahem) myself. (I'll post my talk in a separate blog.)
Next up: Lyme warrior/rap singer Zach Reed (aka "Revolt") stepped forward to perform a new song he has written about his Lyme disease experience. It was a big hit with the crowd.
Click here to view it.
Then, something really remarkable happened. Individual people stepped up to the microphone to share their personal Lyme stories. Some poignant, some angry, all heartfelt. It was a magical, bonding moment. It really felt like we were a tribe, banding together for a common cause, working for a day when people with Lyme disease will receive the medical treatment they require and deserve.
.
.
After people had had their say, Jordan Fisher Smith, the former park ranger featured in the Lyme documentary UNDER OUR SKIN, arrived. (Scheduled to speak earlier, he had been unavoidably delayed.) Didn't matter. The timing was perfect. He took the stage and gave a rip-roaring speech to the audience, an excellent end-note to a productive day.
.
.
My thanks to everybody who helped behind the scenes to help make this happen, as well as to all the Lyme warriors who withstood the hot sun in front of Moscone Center. Special thanks to UNDER OUR SKIN Director Andy Abrahams Wilson, who filmed the event for an upcoming project, and others who shot video for us to post on YouTube.
Here's our video re-cap by Tony Hayman:
Photos accompanying this blog are by Stephanie Vandagriff of Kai West Photography and Tony Hayman.
TOUCHED BY LYME is written by Dorothy Kupcha Leland, LymeDisease.org's VP for Education and Outreach. Contact her at dleland@lymedisease.org.