Lyme bills to boost research, treatments, and school accommodations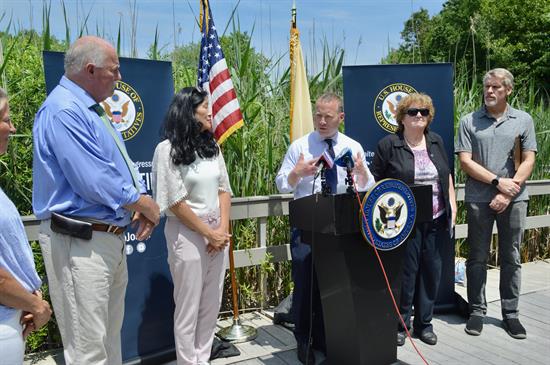 On June 10, New Jersey Representative Josh Gottheimer, a member of the Congressional Lyme Disease Caucus, announced bipartisan federal action to help protect families from Lyme disease and to find new treatments for tick-borne illnesses.
Gottheimer was joined by environmental and health experts to highlight how North Jersey families can protect themselves from ticks and Lyme disease as they enjoy outdoor activities this summer.
New Jersey had four times the national average of Lyme disease cases in 2020.
While Lyme disease can be treated with antibiotics in many cases, it can also be difficult to diagnose due to its diverse manifestations and a lack of reliable testing options.
Many of those infected do not realize their diagnosis until the symptoms have become severe. Current tests for Lyme disease often produce false negatives. There is currently no cure for Lyme disease.
Proposed federal legislation
Gottheimer announced that he is helping introduce and push for the following bipartisan bills:
The Children Inflicted by Lyme Disabilities Act — a bipartisan bill to help ensure children who suffer from Lyme disease get the care and attention they need. The bill (H.R.3636) will amend the Individuals with Disabilities Education Act so that the phrase "child with a disability" includes a child who needs special education and related services due to a Lyme disease health impairment.
Bipartisan legislation for competitions to find Lyme disease treatments — This bipartisan bill (H.R. 3637) will authorize the Department of Health and Human Services (HHS) to launch prize competitions to drive innovation and accelerate the discovery of new methods to counter and treat Lyme disease.
The Stamp Out Lyme Disease Act — a bipartisan bill (H.R. 3491) to create a brand new postage stamp to supplement congressionally-appropriated research funding for Lyme and tick-borne disease treatments at the National Institutes of Health (NIH).
"Lyme disease can be brutally debilitating, hard to detect and treat, and cause real long-term health issues. It's a problem that we must try to solve," said Gottheimer.
"The federal action I'm announcing today will boost investment for Lyme disease research, incentivize the development of new treatments, and amend federal law to accommodate the health impairments that can be caused by Lyme disease in children, so they can receive the specialized education and care they need."
Immediate help needed
"It is imperative that we get help for the thousands of sick Lyme patients — 29% are children," said Pat Smith, the President of Lyme Disease Association Inc.
"We need Congress to act quickly to not only provide money but to ensure the monies are actually being used to help Lyme and tick-borne disease patients by providing cutting edge diagnostics and treatment therapies for the 20+% who remain sick after a short course of antibiotics. I thank Congressman Gottheimer and the House Lyme Disease Caucus for their continued efforts in this area."
Don Weise, of the New York-New Jersey Trail Conference and the West Milford Environmental Commission said, "The pandemic has proven that people need access to the outdoors to be mentally and physically healthy. We must be vigilant and check for ticks, but we can't let Lyme disease keep us locked indoors. This legislation gives me hope that we'll find a cure and finally stamp out Lyme disease, once and for all,"
Gottheimer was joined at today's announcement at the West Milford Wetlands Environmental Center by Passaic County Commissioner Terry Duffy, Lyme Disease Association President Pat Smith, President, New York-New Jersey Trail Conference Membership & Development Director  and member of the West Milford Environmental Commission Don Weise, and local Lyme disease patients and advocates Doreen Edwards, Whitney Klein, and Gloria Kim.
SOURCE OF PRESS RELEASE: Office of Congressman Josh Gottheimer