TOUCHED BY LYME: Casting about for a new way to look at Lyme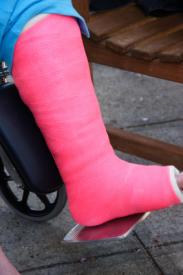 A Lyme patient finds that a cast on her foot changes everything.
I received an email from Lyme patient Michel Lynn Inaba, relating a change in her life. Here's how she describes it:
I stepped off a curb wrong and broke a bone in my foot 2 weeks ago and have been stuck in the Bay Area. The interesting thing is the response that I have gotten to this "visible" injury that should heal in time.  People simply can't do enough for me!  I am given constant offers of help, no one ever says "No" to a request and they are infinitely patient. 
It is so opposite the reaction people have to Lyme disease sufferers that it's disorienting!  I get pulled in to thinking that this is the way the world wants to treat me BECAUSE I DESERVE IT.  Then I wake up and realize that as soon as I no longer have a cast on my leg, the world will still be uncaring and indifferent to our suffering.  As inconvenient as this cast is, I tell you, I will be very reluctant to give it up.   
Comments, readers? Have you had a similar experience?
The TOUCHED BY LYME blog is written by Dorothy Kupcha Leland, CALDA's VP for Education and Outreach. Contact her at dleland@lymedisease.org.