TOUCHED BY LYME: When "caboose" doctors go the extra mile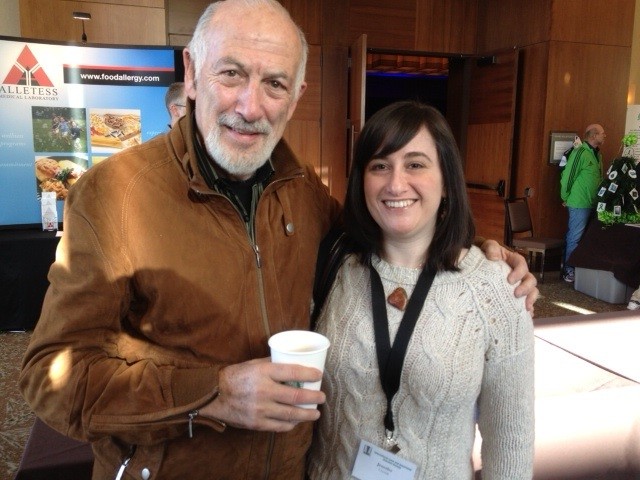 Guest blogger Jennifer Crystal reports on her emotional response to hearing her own doctor speak at ILADS.
Many of us Lymies know the struggle to get properly diagnosed: the months, sometimes years of misdiagnosis, of being told it's all in our heads, of going to doctor after doctor, trying to find an answer. In his talk yesterday afternoon, past ILADS President Dr. Bernard Raxlen called ILADS doctors "the caboose doctors," the ones who catch patients like us when we have exhausted all other avenues and have given up hope.  In the throes of illness, it's easy to believe that there is no one out there who can help. After attending this conference, I can assure you that these caboose doctors do exist, and they are passionate about learning all they can about proper diagnosis and treatment of tick-borne illnesses. Dr. Raxlen remembered the first few ILADS conferences, when small groups of doctors would sit around one table and discuss cases. Now the conference has grown to over 650 attendees, including MDs, FNPs, RNs and patient advocates, all seeking knowledge to help  patients.
Dr. Raxlen is my doctor. Tears streamed down my face as I listened to him teach other doctors about establishing a strong patient-doctor relationship, calling it the "critical glue in treatment of Lyme patients." I cried because it was Dr. Raxlen's empathy, coupled with his expertise, that saved my life. When I landed in his office in 2005, I was completely disabled by physical and neurological symptoms, and at my wit's end. Now I'm here at this conference, working as a journalist while I attend graduate school, and I have my ILADS doctor to thank for that. For all of the controversy that exists over Lyme disease diagnosis and treatment, I am living proof that the ILADS way is effective and successful.
What sets ILADS doctors apart is their willingness to go the extra step, sometimes the extra mile, in seeking answers. In his welcome letter, ILADS President Dr. Shea noted the appropriateness of the conference being held in Boston, saying, "Were it not for those courageous individuals who in Revolutionary times were willing to put themselves on the firing line, we might still be under British rule. Similarly, without the courage, creativity and dedicated research of ILADS doctors, Lyme disease and other tick-borne diseases would still be viewed through a myopic medical prism rather than through the lens of enlightenment. It is through that ILADS lens that patients are seen as complex and valuable human beings impacted in multiple ways by these terrible diseases and thus, worthy of extraordinary attention and compassion."
Of course, this extraordinary effort can lead to burnout for doctors, something both Dr. Raxlen and Dr. Joseph Jemsek touched upon in their joint panel, "Evolving Concepts in Lyme Borreliosis Complex." Dr. Jemsek compared treating Lyme now to treating AIDS in the '80s, noting that his efforts in that era almost did him in. It was his passion that kept him going. "If you're a casual treater, you're going to fail," he said. "But then you get somebody really sick, who had no life, and they're better because of you."
I am one of those people, and I say from the bottom of my heart, Thank you. For all of you patients who are not yet there, get yourself to an ILADS doctor and eventually, you will be there, too. There is hope!
Jennifer Crystal can be reached at jencrystal5678@gmail.com.