TOUCHED BY LYME: Bracelets for Lyme disease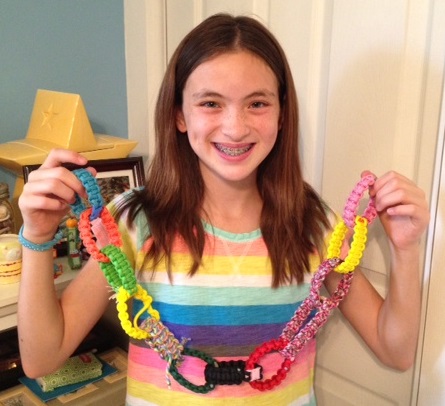 The US Mail brings a gift from the heart to help Lyme patients.
Elena Saviano is an 11-year-old girl from the Los Angeles area who knows people who have Lyme disease. She knows how difficult a condition it can be, and she wanted to do something to help.
The sixth grader decided to make colorful bracelets–many of them–and sell them to raise money for Lyme research. When all was said and done, she sent LymeDisease.org a money order for $482.25!
In an accompanying note, she said, "I really enjoyed making all the bracelets, and collecting money to donate. I'm very happy with the amount that I have raised, and I really hope that I can help make a difference in people's lives. Without the support  of my amazing school, I couldn't have done any of this. They supported  me throughout the whole process and purchased many of my bracelets."
A short time later, we received the following email from Elena:
"I also wanted to tell you that my family and I are moving on Saturday, and as we were going through boxes, I found my very first envelope of donation money – the envelope had $50 in it, and I am going to send that money after we move. With that $50, my donation would be a little over $500."
Way to go, Elena! We salute you for your talent, your generosity, and your heart. Good luck in your new house. That money you donated will support Lyme disease research, and will indeed help make a difference in people's lives.
TOUCHED BY LYME is written by Dorothy Kupcha Leland, LymeDisease.org's VP for Education and Outreach. Contact her at dleland@lymedisease.org.