TOUCHED BY LYME: Unfortunate news for young MA tick researcher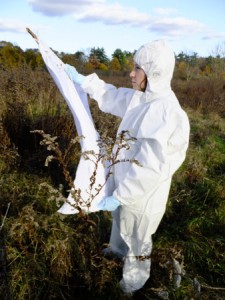 Her case underscores the need for extreme vigilance concerning ticks.
Readers of this blog may recall the story of high school student Jackie Flynn. Last February, I recounted how the high school-aged researcher geared up in protective clothing, gathered ticks in her hometown of Braintree, Massachusetts, and in a controlled science experiment, tested them to see how long it would take to kill them in a clothes dryer. (As it turns out, five minutes at low heat.)
Her project won a science fair award, garnered national media coverage, and even caught the interest of the Centers for Disease Control, which used to tell people that it took an hour.
Unfortunately, Jackie is making the news again, not in a good way. According to Braintree's "Wicked Local" news report, she's been diagnosed with Lyme disease. The website offered the following quote from Patrick Flynn, Jackie's father:
"This suggests that everyone has to be extremely vigilant if my daughter, who is extremely knowledgeable about ticks, winds up diagnosed with Lyme disease after having been bitten," Flynn said. "Lyme disease and other tick-transmitted diseases are out of control. We want to raise public awareness that what happened to Jackie can happen to anyone. We all have to be careful, particularly in warm weather."
Flynn emphasized how vigilant Jackie has been about checking her body for attached ticks.
"We think that since she doesn't remember being in any tick habitats since her project ended, she could have been bitten by a tick that came from our family cat that sleeps in her bed," he said.
Luckily, it was caught early, and Jackie is undergoing antibiotic treatment. We wish her a good recovery.
TOUCHED BY LYME is written by Dorothy Kupcha Leland, LymeDisease.org's VP for Education and Outreach. Contact her at dleland@lymedisease.org.