NEWS: Sen. Blumenthal of CT renews push for federal Lyme legislation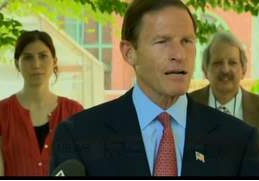 He'll hold a hearing on the bill August 30 in Stamford, CT.
US Senator Richard Blumenthal, of Connecticut, is calling for aggressive federal action against Lyme disease.  In a press conference on July 27, he said he will push for passage of the Lyme and Tick-Borne Disease Prevention, Education and Research Act.
The bill would provide resources for fighting the disease as well as form a national Lyme Advisory Committee, which would include patient representatives.
"Patients have been unrepresented and unreflected in the process and they have a powerful story. They are the ones who have suffered," Blumenthal said.
Blumenthal will hold a Senate field hearing on the proposed bill in Stamford, CT, on August 30.