NEWS: UC Davis to study tick diseases in Klamath-Trinity region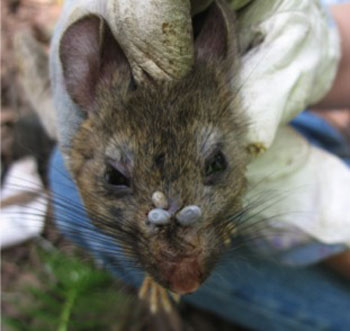 Calling it one of the highest areas in the state for tick-borne diseases, researchers will focus on area in northern reaches of California.
From the Two Rivers Tribune:
Tick Borne Illnesses to Be Studied in K-T Region
By ALLIE HOSTLER, Two Rivers Tribune
Unexplained flu-like symptoms that lurk year-round could indicate an unexpected, out of the ordinary illness.
Ticks, the blood sucking arthropod in the arachnid taxon, feed on the blood of mammals carrying with them diseases that cause an array of annoying and sometimes life threatening symptoms.
Lyme disease may ring a bell, but how about anaplasmosis? Not usually. Northern California has the highest rates of tick borne illnesses in the State, particularly Mendocino and Humboldt Counties according to research presented to the Hoopa Valley Tribal Council last week by a team of veterinarians who plan to begin a research project on tick borne illnesses in the Klamath-Trinity region.
Working under the supervision of Dr. Janet Foley, Nicole Stephenson is a veterinarian and PhD candidate at UC Davis. She has identified the Klamath-Trinity region as a study area for her graduate project which could pave the way for tick research in Northern California by identifying direct impacts to humans and domestic animals.
"The highest prevalence of tick borne disease in animals on the west coast is in Northern California, mainly in Humboldt County," Stephenson said. "We want to find out how big of an issue tick borne illnesses really are."
Click here to read the rest of the article.