NEWS: Scientists say invasive plant harbors ticks, contributes to Lyme disease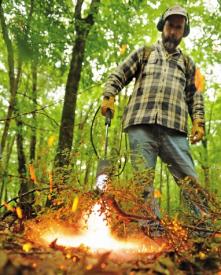 Researchers say a highly invasive, non-native plant called Japanese barberry forms dense canopies in the wooded areas of Connecticut, creating cool moist shelters for ticks that carry Lyme disease. They say burning it out can make woodland areas healthier for native wildlife and humans.
From The Day (New London, CT)
Scientists link invasive barberry to Lyme disease
By Judy Benson
Publication: The Day
Published 06/20/2011
Lyme – Friday morning, off a shady wet trail in the town that gave Lyme disease its name, a man with a 30-pound propane tank and a flame-throwing wand showed a group from local land trusts how a bit of fire in the right spots can make their woodlands healthier for both native wildlife and humans.

"You want to heat it until the stem glows. Then it's dead," said Jeffrey Ward, chief scientist at the Connecticut Agricultural Experiment Station's Department of Forestry and Agriculture. He talked over the loud gush of the propane torch as he wielded it on a patch of thorny green branches springing from the forest floor in the Eno Preserve, owned by the Lyme Land Conservation Trust.

Ward's demonstration, for representatives of Lyme, Salem and East Haddam land trusts and the Nature Conservancy, is the outreach part of five years of research he and fellow experiment station scientist Scott Williams have been doing on the relationship between Japanese barberry, ticks that carry Lyme disease and deer overpopulation.

A highly invasive plant that forms dense canopies in forests – particularly those with high deer populations that eat most every other plant – Japanese barberry also creates moist, cool shelters that harbor ticks that carry the Lyme disease bacteria, Ward's and Williams' research has shown. Hot, dry conditions suppress tick populations.

At 28 study areas, including a parcel along Lord's Cove in Old Lyme, the two have been studying various aspects of the triangular relationship between ticks, deer and barberry, and spreading their message to land conservation organizations about the best methods for ridding forests of barberry. Deer serve as hosts for adult ticks, while the barberry functions as a nursery for ticks in their juvenile stages.
Click here to read the rest of the article.