Special double issue of Lyme Times: IDSA Hearing, Part 2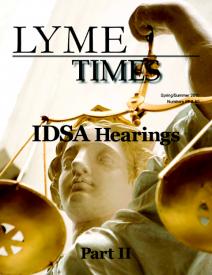 More than a year after the IDSA's historic Lyme hearing, there continue to be reverberations throughout the Lyme community. Read legal analysis, speaker presentations, and transcripts.
If you are currently a member of CALDA, this special double issue (Spring/Summer 2010) is already on its way to your mailbox. If your membership has expired, or if you have need to become a member for the first time, join or renew by clicking here, and this issue will be mailed to you.