NEWS: Told he was dying of ALS, California man turns it around with Lyme treatment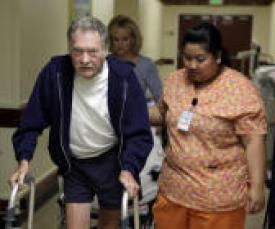 The San Jose Mercury News writes a follow-up story on Bart Fenolio, who last December was told he had two months to live. Fenolio has been in a nursing home since then, receiving Lyme treatment. Now he's well enough to go home.
.
.
.
.
.
.
.
.
From the San Jose Mercury News:
Fisher: After long struggle with Lyme disease, Bart's going home
Posted: 07/29/2010 03:51:06 PM PDT
Updated: 07/29/2010 04:05:06 PM PDT
Bart Fenolio still tires easily, needs a walker to get around and has occasional memory lapses. He knows it could take years for him to overcome the devastating effects of chronic Lyme disease.
But for a 70-year-old guy who had been told he was dying of Lou Gehrig's disease and couldn't breathe on his own or pick up a cell phone when I saw him six months ago, Fenolio looks pretty darn good. And he is counting his blessings.
"I'm just so lucky to have a family and so many friends who could advocate for me," he told me Thursday as he prepared to leave the San Jose nursing home where he has been recovering since December. "I've lost a lot of muscle mass — I've got no buns — but I'm finally on the road to recovery."
In January, I told the story of the former San Jose State track star, classic car nut and golfer who contracted Lyme disease from a tick bite but was misdiagnosed with amyotrophic lateral sclerosis, an incurable illness. The long-time owner of a Campbell tropical fish store was bitten by the tick while walking his dog in Morgan Hill seven years ago and began to develop symptoms two years ago.
Only through the persistence of Heidi, his wife of 46 years, and their scientist son and social-worker daughter was Bart given a series of Lyme tests that came back positive. He says his doctors at Kaiser Permanente insisted he had ALS even though he began to improve with antibiotics, and he left Kaiser to get the treatment he needed.
---
Advertisement
yld_mgr.place_ad_here("adPosBox");
---
Read the rest of the article here.