NEWS: Thanksgiving in the Lyme world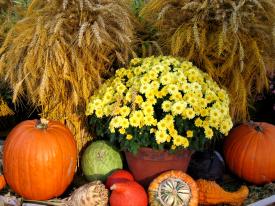 Our Gratitude List: 2009 has been a remarkable year for the Lyme community. Here are some things we're grateful for this Thanksgiving season.
Historic IDSA Lyme panel hearing allows airing of divergent views; thousands watch via internet
In a landmark event held July 30, 2009, the Infectious Diseases Society of America (IDSA) finally allowed patient representatives and ILADS doctors to present evidence countering the IDSA's restrictive Lyme treatment guidelines. In a process laid out in a settlement with the Connecticut Attorney General's office, 18 speakers representing varying viewpoints presented testimony in a day-long session available to the public via live webcast.
In addition, more than 1600 pages of analysis and research studies contesting the IDSA recommendations were submitted. The panel will reach its decision by the end of 2009.
Lyme Documentary Under Our Skin is semi-finalist for Academy Award nomination
The Academy of Motion Picture Arts and Sciences selected the Lyme film as one of 15 finalists competing for "Best Documentary Feature" in the 82nd Academy Awards. The list will be whittled down to five nominees in February.
Under Our Skin was released in theaters last June, garnering awards and top reviews. In addition, there have been hundreds of community screenings throughout the country, to audiences big and small. The film continues to help raise the profile of Lyme disease and the medical controversy surrounding it.
More steps forward:
1. Our federal bill, the Lyme and Tick-Borne Diseases Prevention, Education and Research Act of 2009 (HR 1179/S 1352) is picking up more co-sponsors. Click here for more information about the legislation.
2. A new edition of the book Cure Unknown:Inside the Lyme Epidemic, by science journalist Pamela Weintraub, has been released in paperback.
3. More doctors are learning to diagnose and treat patients according to the guidelines set forth by the International Lyme and Associated Diseases Society (ILADS).
4. More patients are helping themselves and each other by joining CALDA's network of on-line state Lyme support groups. And they are also keeping abreast of Lyme-related news via the Lyme Times, as well as CALDA's blogs, Facebook page and Twitter.
5. More Lyme research is being funded by CALDA and other patients groups. Click here to read about CALDA's research program.
6. Recently, CALDA successfully held its second annual Lyme activists' training workshop in connection with the LDA/ILADS conferences. More people than ever are becoming involved. Click here for the "Activism" section of CALDA's website.
We're grateful to you… 
members and friends of CALDA, for making all this possible. With your support, we will continue and expand our efforts to empower Lyme patients through advocacy, education and research. To join CALDA and receive quarterly issues of the Lyme Times, click here. Happy Thanksgiving!