Update on federal funding for Lyme and other tick-borne diseases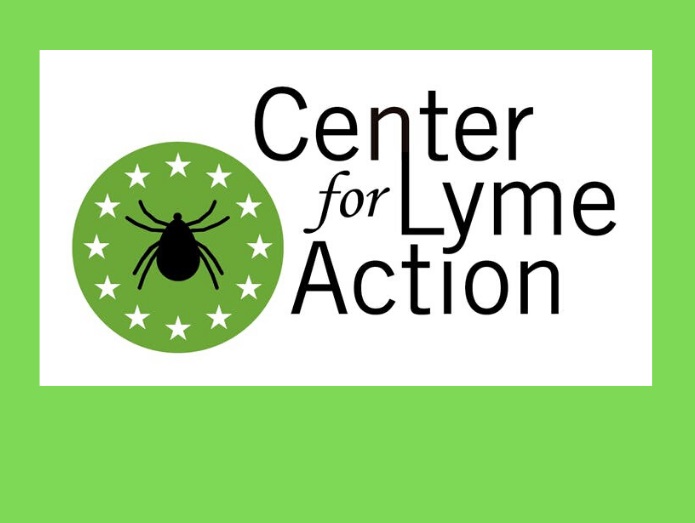 A message from the Center for Lyme Action:
Dear Lyme Advocate:
Congratulations to all Lyme advocates for your work to grow federal funding for Lyme and tick-borne disease!  We are making our journey through the Fiscal Year 2024 appropriations process. Let's keep it going!
What's happening
Now that Congress is starting to make progress again on the FY24 appropriations, some bills are making their way through both the House and the Senate.
The federal government is currently being funded at last year's levels under a continuing resolution (CR) and the House approved a new CR on Tuesday. The Senate approved the same CR on Wednesday to extend funding through January 19, 2024 for some areas, and February 2, 2024 for others.
The February 2 deadline includes the two appropriations bills for which we have an interest: Labor-HHS and Defense. To meet these new deadlines, we are seeing some individual appropriations bills making progress.
More details
This week saw action in the House Rules Committee. The Labor, Health and Human Services, Education Appropriations Subcommittee, having approved H.R. 5894 at the Subcommittee level in July and providing explanatory statements on November 3, brought the bill to Rules Committee directly without a full Appropriations Committee vote.
The good news is that despite billions in cuts for HHS, including at CDC and NIH, Lyme and tick-borne disease received increases.  The bill requires a $6 million increase for a record-setting NIH Lyme and tick-borne disease research budget of $125 million.
Also, it uncharacteristically directs a benchmark appropriation, where in the past the committee left it to the discretion of NIH to set the funding level. This is the direction of the House, however, and we will see what is ultimately worked out in House-Senate negotiations on the bill.
In other good news, the Committee voted for $5 million in new funding for the LymeX Innovation Accelerator program including the LymeX Diagnostics Prize in the Department of Health and Human Services (HHS).
In the context of an overall decline in the HHS budget by 12%, the increases at NIH and new funding at HHS are exceptional and exciting. These were two of our appropriations "asks" for Congress during our 2023 Lyme Fly-In. You helped make this happen. Well done, advocates!
In other areas, the House Labor HHS Appropriations Subcommittee approved $26M for CDC Lyme and $18.5M for the Kay Hagan Tick Act.  Although the funding is flat, in the current environment, a flat budget is a big win when other areas are being cut.
Lastly, the Labor HHS Subcommittee has requested the National Institute of Neurological Disorders and Stroke (NINDS) to establish a Special Emphasis Panel (SEP) for Lyme and other tickborne diseases, similar to the SEP established for myalgic encephalomyelitis/chronic fatigue syndrome.  It is remarkable that Congress is asking NINDs, an additional NIH Institute, to start getting involved with programs for Lyme and TBD!
What's next

While the House has recessed for the Thanksgiving break having passed the Continuing Resolutions and avoiding a Government shutdown, look for Labor-HHS and Defense Appropriations to come to the House floor, possibly before Christmas.
Meanwhile the Senate has passed three of the 12 appropriations bills, but none included the bills we're interested in, which are Labor-HHS and Defense.
We observe that instead of a year-end, large omnibus appropriations bill including all 12 bills, the House is striving for House-Senate conference committees for each of the individual 12 appropriations bills, and sending each bill to the President. This had been the regular way of doing business or "regular order" many years past.
Please stay tuned for more updates.  We'll send the details as we have them on email, Instagram, and X.
Best regards,
Bonnie, Jeff, and Meghan
P.S. Want even more details?  Please review the information below.
Summary Table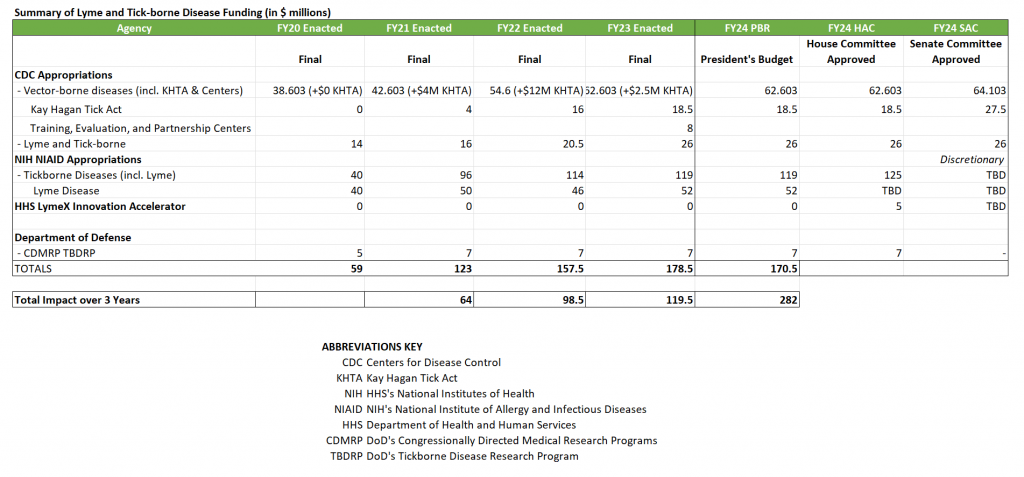 EXPLANATORY MATERIALS FOR THE DEPARTMENTS OF LABOR, HEALTH AND HUMAN SERVICES, AND EDUCATION, AND RELATED AGENCIES APPROPRIATIONS BILL, 2024—H.R. 5894
November 2, 2023
CENTERS FOR DISEASE CONTROL AND PREVENTION
p.49
p.50
Lyme Disease.—The Committee continues to support CDC's efforts to improve the testing and treatment related to Lyme and other vector-borne diseases and encourages CDC to consider expanding activities related to development of more accurate diagnostic tools and tests for Lyme disease. The Committee is aware that potentially valuable tools, methods, and approaches for preventing tickborne diseases have not been evaluated due to a lack of resources. The Committee continues funding for CDC training and evaluation activities to evaluate the most promising of those tools, methods, and approaches for preventing tickborne diseases and to provide advanced training for public health entomologists on their use.
NATIONAL INSTITUTES OF HEALTH (NIH)
NATIONAL INSTITUTE OF NEUROLOGICAL DISORDERS AND STROKE (NINDS)
p.76
Special Emphasis Panel.—The Committee encourages NIH to establish a Special Emphasis Panel (SEP) for Lyme and other tickborne diseases, similar to the SEP established for myalgic encephalomyelitis/chronic fatigue syndrome. Current Lyme applications are sent to various committees which do not always have specialized knowledge of the complexities of Lyme disease. Establishing a SEP would allow for the review of applications to include the study of the potential causes, diagnosis, pathogenesis, clinical manifestations, epidemiology, and treatments of chronic Lyme disease. The review would be done by panelists selected from different specialties and different perspectives to examine a broad range of the science—an aspect not always available in the current review process for Lyme—considering its complex, multi-systemic nature and how the Lyme pathogen can suppress and evade the human immune system. Panelists with appropriate expertise can be recruited each cycle for the science pertaining to received applications. The Committee requests an update on such panel and NIH Lyme research in the fiscal year 2025 congressional justification.
NATIONAL INSTITUTE OF ALLERGY AND INFECTIOUS DISEASES (NIAID)
p.78
Lyme and Tick-Borne Disease Research.—The infectious etiology of chronic diseases and syndromes, including infections from Borrelia burgdorferi, Bartonella henselae, West Nile virus, and many other infectious agents, have been known or suspected for several decades, but research which could reduce chronic diseases and syndromes and lessen the severity of symptoms, has been neglected. Such research could have important implications for the treatment of severe mental health and psychological symptoms of chronic diseases and disabilities, including for people with chronic Lyme disease. The Committee notes that in 2019, NIH released its NIH Strategic Plan for Tick-Borne Disease Research, establishing a framework for addressing the problem of Tick-Borne Diseases (TBDs). The Committee includes not less than $125,000,000 for NIH research into TBDs. NIH is encouraged to support research to better understand the causes of TBDs, to support research on tick- borne tularemia and other newly emerging tick-borne pathogens, and to support the development of reliable diagnostics and therapies to address this growing health concern that affects more than 476,000 Americans annually. The Committee notes that additional research could significantly reduce chronic diseases and syndromes, as well as lessen the severity of symptoms.
OFFICE OF THE SECRETARY (HHS)
GENERAL DEPARTMENTAL MANAGEMENT
p. 165
LymeX Innovation Accelerator.—The Committee commends the Office of the Secretary and its Chief Technology Officer for the Lyme Innovation Initiative, launched November 2018, and the LymeX Innovation Accelerator announced in October 2020. LymeX is a key component of the HHS Lyme Innovation initiative, focused on accelerating Lyme Innovation progress and strategically advance tick-borne disease solutions in direct collaboration with Lyme patients, patient advocates, and diverse stakeholders across academia, nonprofits, industry, and government. LymeX is a $25,000,000 public-private partnership with the Department of Health and Human Services and the Steven & Alexandra Cohen Foundation. LymeX is modeled after the success and methods of the KidneyX Innovation Accelerator, a partnership between HHS and the American Society of Nephrology that includes kidney care patients in every step of its innovation process. In January 2022, LymeX announced the initial call for concepts for the LymeX Diagnostics Prize challenge and, in November 2022, LymeX announced 10 Phase 1 winners of the LymeX Diagnostic Challenge. Phase 2 is expected to start in 2023. The Committee continues $5,000,000.
SOURCE: Center for Lyme Action