Upcoming screenings of Lyme documentary "The Quiet Epidemic"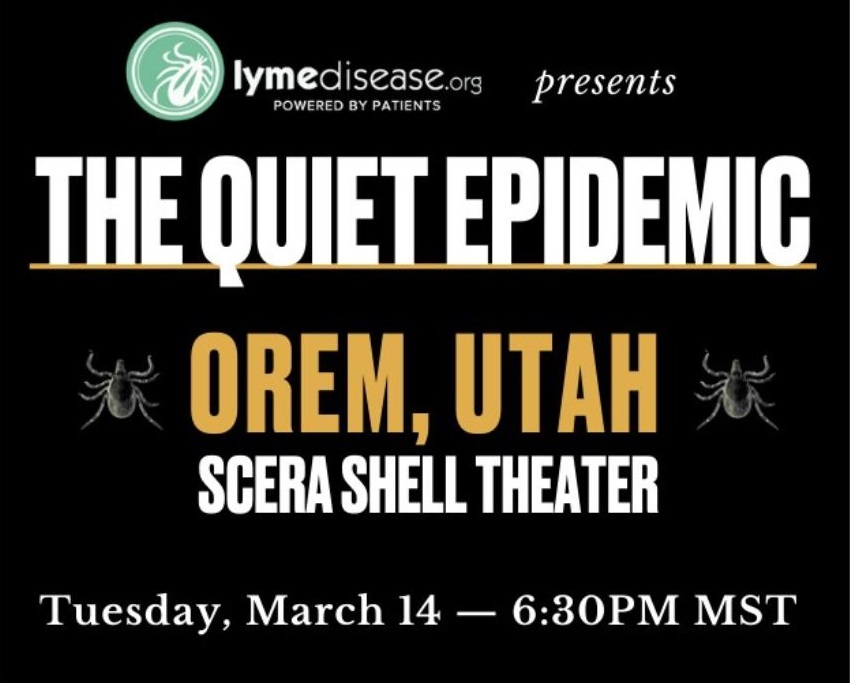 From the makers of The Quiet Epidemic:
Here is our *March 2023* community screening schedule:
March 14 — Orem, Utah — Scera Shell Theater @ 6:30 PM MT — hosted by Josh Lindorf and Ethan Peterson to benefit Lymedisease.org's MYLYMEDATA project
March 18 — Frederick, Maryland — Urbana Public Library @ 12:00 PM ET — hosted by The leaf program and Project Lyme, followed by a panel discussion with Dr. Nancy Fox and Ashley Baker,  and a book signing by Fred Diamond
March 26 — San Francisco, California — The Roxie Theater @ 1:00 PM PT — followed by a Q&A with TQE co-directors Lindsay Keys and Winslow Crane-Murdoch
March 31 — Hamilton, New York — Colgate University @ 5:00 PM ET — hosted by Colgate University and followed by a roundtable discussion with faculty
For details and tickets, click here.
Individuals and organizations from around the world are signing up to host screenings at their local movie theaters, universities, public libraries, school auditoriums, community centers, and more.
In addition to public screenings, The Quiet Epidemic can be screened privately. We're just getting started and the film has already screened at two major medical schools—followed by discussions with doctors, scientists, and med students.
Anyone can host a community screening, and you do not need access to a movie theater! To sign up, visit our website, then click on "Take Action" and then "Host a Screening." Our community screening tour producer will then be in touch.
In other news, The Quiet Epidemic will be available to rent/buy on Amazon and iTunes this summer, so stay tuned! In the meantime, individuals, foundations (and even medical schools!) are signing up to host screenings to have discussions around the challenges we're facing and the way forward.