A lifetime of tick-borne infections in South Africa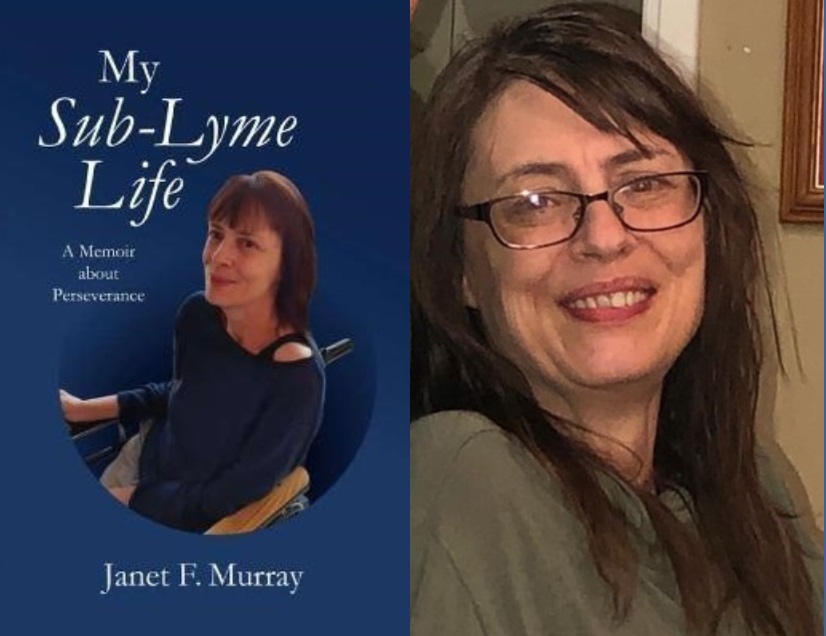 By Natasha Fernandes
Janet F. Murray's memoir My Sub-Lyme Life is a powerful account of the devastating impact of Lyme disease and other tick bite-related diseases on individuals and families.
The memoir is an emotional depiction of her intense struggle in the face of the eventual diagnosis of Q fever and spotted fever.
Although these infections originate from different bacteria, they are similar to Lyme disease in that the symptoms and effects are equally dangerous. Through the lens of her own experiences, Murray sheds light on the challenges of diagnosis, treatment, and living with chronic illness.
One of the most striking aspects of My Sub-Lyme Life is the very intimate, personal, and gut-wrenching account of Murray's experience with the disease. She describes the chaos and pain that come with chronic illness and its impact on her emotional and mental health. Her story is a reminder that the experience of Lyme and similar diseases is profoundly personal and affects not only the physical body but also the mind and spirit.
Severe consequences
Janet Murray's book is an eye-opener to the struggles faced by people with Lyme and similar infections – especially when they transmute into the chronic stage. Her story shows how a misdiagnosis can have severe consequences, leaving individuals with lifelong disabilities.
In Murray's case, she was misdiagnosed several times during a 25-year period. These misdiagnoses ensured that her condition remained untreated. As a result, her health deteriorated significantly to the point where she became wheelchair-bound in her early thirties, eventually only able to use her fingers.
This heartbreaking but poignant quote from Murray's memoir describes the havoc that is a life-destroying tick-borne disease.
"Today, it doesn't matter to me as a layperson whether one calls the tick-bite infections spotted fever, tick-bite fever, Rickettsia, Coxiella burnetii, Borrelia burgdorferi, Lyme disease, or any other name. To me, the effects are the same, which is the almost total destruction of health and any concomitant quality of life".
As Murray explains, Lyme disease and similar Q and spotted fevers are caused by bacteria transmitted by ticks. They are complex illnesses with a wide range of symptoms that can affect multiple systems in the body. The early stage of Lyme disease is often marked by a characteristic "bull's eye" rash and flu-like symptoms. Still, many cases go undiagnosed due to the non-specific nature of the symptoms.
Untreated Lyme, Rickettsia (and similar) diseases can progress to the later stages, causing neurological, cardiac, and musculoskeletal damage.
Unpasteurized milk, undetected tick bites
Murray's struggle with Q fever and later spotted fever began as a small child in the countryside of South Africa. Looking back, Murray believes that unpasteurized milk and undetected tick bites were the cause of these infections.
Despite experiencing many symptoms, including rashes, muscle weakness, and fatigue, she was not diagnosed until age 38. By then, she had long since weakened to a state where she had to use a power wheelchair. The infections had also long since progressed to a chronic level, which was difficult to treat, causing ongoing and long-term disability.
Murray's memoir offers a raw and honest account of the physical, mental, and emotional toll that chronic tick-related diseases can take on a person. She describes the frustration and isolation of not being believed or understood by doctors, the impact of her illness on her relationships, and the daily challenges of living with limited mobility and chronic pain.
One of the most important aspects of Murray's story is the need for greater awareness and understanding of Lyme disease and other zoonotic diseases. These illnesses are often misunderstood and under-recognized, and patients can face significant barriers to diagnosis and treatment.
While there does not seem to be a standard cure for chronic Rickettsia and Lyme diseases, there are treatments to help manage symptoms and improve quality of life. These treatments can include antibiotics, anti-inflammatory medications, and alternative therapies such as acupuncture and supplements. However, effective treatment can be challenging, and many patients experience ongoing debilitating symptoms even after treatment.
Hope and inspiration
In addition to highlighting the challenges of living with Lyme disease and other zoonotic diseases, Murray's memoir offers hope and inspiration to others facing similar debilitating and life-changing health conditions.
Her resilience and determination in the face of adversity are also a testament to the human spirit. Her story serves as a reminder of how personal emotional strength is necessary to face adversity. She is also a very real example of how perseverance is vital in meeting these challenges despite the horrific disease she lives with and ultimately living a life of purpose, joy, and peace.
Overall, My Sub-Lyme Life is a powerful and emotive memoir that provides a personal account of the devastating impact of Rickettsia and similar diseases. It is a vital contribution to the conversation around tick-borne conditions and the need for greater awareness, understanding, and advocacy.
For those seeking answers about Lyme disease and other tick-borne diseases or those looking to connect with others in the Lyme community, My Sub-Lyme Life is a must-read.
Natasha Fernandes is a writer who lives in South Africa.