TOUCHED BY LYME: Filling library shelves with Lyme disease books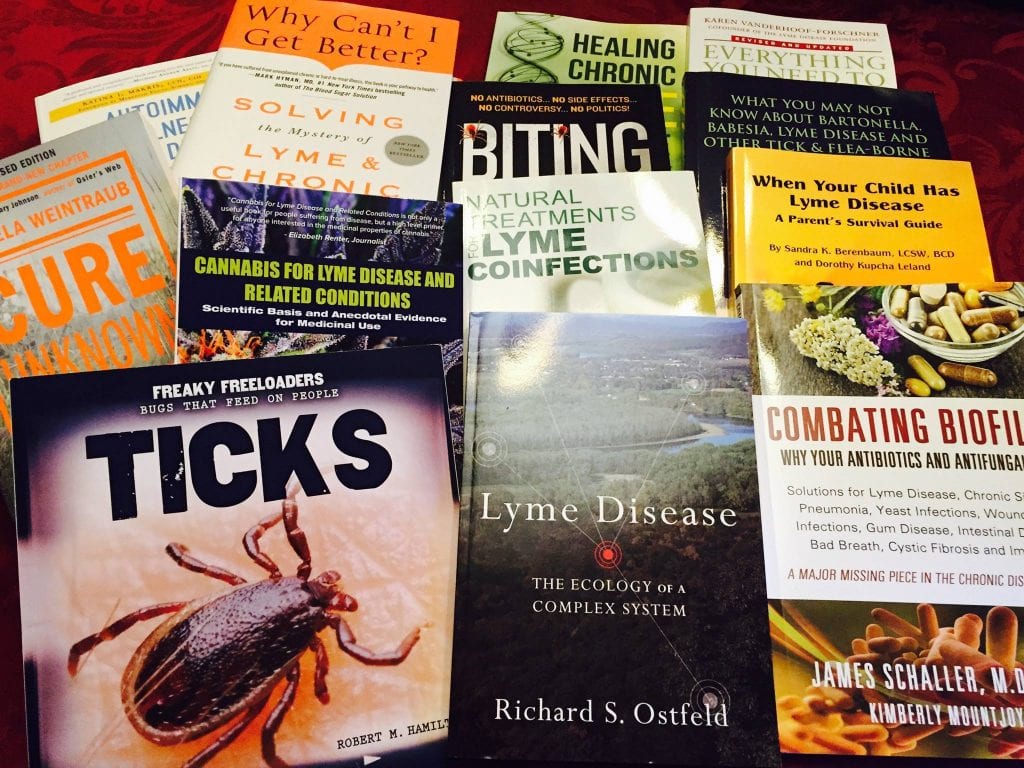 Michele Miller of Massachusetts used to be a librarian. So back in 2011, when her mother, Jeanne Cloutier, was diagnosed with Lyme disease, one of their first stops was at the local library to search for books on the topic.
"There was exactly one book about Lyme disease," Michele remembers ruefully. "Just one book."
Sadly, Mrs. Cloutier lost her battle with Lyme disease in 2013. In memory of her mother, in 2014, Michele and her husband Ken formed the Central Mass Lyme Foundation. The non-profit organization works to raise awareness of tick-borne illness, educate the public, and offer resources and guidance to Lyme patients.
Michele works in real estate now. But her "inner librarian" never forgot those missing Lyme books on the library shelves.
So, one of the foundation's projects has been to provide information resource kits to libraries in Central Massachusetts. The photo accompanying this blog shows a selection of books recently delivered to a library.
So far, they have distributed kits to 33 libraries! They plan to do more, as funding allows.
(I'm honored to know that the book I co-authored with Sandy Berenbaum, "When Your Child Has Lyme Disease: A Parent's Survival Guide," is included in the kit.)
In addition to books, the kits also contain a DVD, a Lyme symptom checklist, a magnet from the Central Mass Lyme Foundation, brochures, and a flyer for their upcoming educational conference, to be held on Saturday, September 23, in Worcester.
The night before the conference, there will be a special "meet the authors" event at the local Barnes and Noble Bookstore. Authors of Lyme-related books will include Dr. Neil Spector, Dr. Kenneth Liegner, Jenny Rush, Katina Makris, Dr. Nancy Fox, Lori Dennis and George Popovici.
For more information about the authors and both events, go to www.CentralMassLymeConference.com.
TOUCHED BY LYME is written by Dorothy Kupcha Leland, LymeDisease.org's VP for Education and Outreach. She is co-author of When Your Child Has Lyme Disease: A Parent's Survival Guide. Contact her at dleland@lymedisease.org