TOUCHED BY LYME: The adventures of getting a PICC line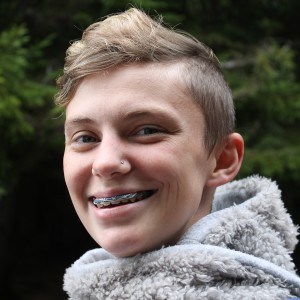 Guest blogger Hannah Barry offers a play-by-play account of having a PICC line inserted for Lyme treatment.
So I have a PICC line now.
It stands for Peripherally Inserted Central Catheter.
The reality of that is that I have a small tube sticking out of my arm. That tube goes into my arm, chills in my veins and comes out somewhere just above my heart. And it's weird.
The medical science of that is obviously a bit more complicated. According to Wikipedia: "A PICC is inserted in a peripheral vein in the arm, such as the cephalic vein, basilic vein or brachial vein, and then advanced proximally toward the heart through increasingly larger veins, until the tip rests in the distal superior vena cava or cavoatrial junction." (Say that 10 times fast!)
What it actually entails is someone (in my case, a very dapper-looking man who is probably Anderson Cooper's younger brother—I can only assume) giving you a shot of novocaine to numb the area. (It's the same stuff you get in a dentist office—we've all been there).
This is THE WORST part of the whole procedure. You might think it would be the various tubes being forced into your body, but no. You're numb to all that. The novocaine shot is a killer. Hopefully you will only need one or two.
Unfortunately, I needed three because my vein disappeared somewhere and we had to move the insertion further up my arm. After you're numb, the Anderson Cooper lookalike uses an ultrasound machine to guide a tube into your arm. This tube will be slightly bigger than the cord of an iPhone charger.
Next, he threads a smaller tube into the first one and takes the larger tube out. Then he threads in the final tube and takes the second one out. Next, the specialty nurse uses the x-ray machine to guide the tube into a spot just above the heart, where it will reside as long as needed.
Another thing to note: this seems terrifying having a tube in your body, I know. I completely freaked out the morning of, but it's not that bad. He cut a piece of the tube for me to keep (obviously an extra piece, not a piece that should be in me…it's fine) and they are small, flexible, soft, and best of all…PURPLE.
Having it physically in my hands so I can play with it helped me realize that these people have this whole thing down to a science—which I didn't doubt—but you know how it is when it's your own body. You get protective. And the idea of foreign objects having to live in you for a while, but also stick out of you is pretty scary. His simple gesture rested my nerves considerably. I only hope that all other PICC-line patients get someone as good-looking, kind and thoughtful.
After the PICC insertion I was sore. Very sore. And I bled A LOT. Which totally freaked me and my Mom out, and we almost went to the ER…but we didn't. Which is good, because bleeding is normal.
Though if it does soak through and the bandage starts to come off…GO TO THE ER IMMEDIATELY. The bandage is not there just for protection, it creates a sterile field at the insertion site. It is of the utmost importance that that sterile field not be breached. You absolutely don't want an infection.
Of course, I was sorely unprepared and didn't even think about buying a sleeve in advance. So I hung out all night with the port just dangling about, getting caught on things, and being completely irritating and painful. Classic Hannah.
The next morning we went to the doctor's office for my first infusion. I also had my bandage changed, and it was one of the more painful things that I have ever experienced in my entire life. It's just the constant high pitch stinging that takes over my body and melts my brain while it's being cleaned is just…ugh. Not fun. Luckily for me, that happens once a week with my at-home nurse. Woot.
After we cleaned and changed the bandage, lovely Lynn (the lady in charge of infusions at the clinic) gave me an extension on my catheter so that I can reach it to give myself my own infusions and not look like a T-Rex with tiny arms.
We went over everything very slowly, and my Mom and I listened, took it all in and finally got to participate. Once the infusion of the actual antibiotics was hooked up, we just hung out because it takes about 30 minutes for that to happen. The antibiotic I'm on is called ceftriaxone, or Rocephin. It comes in a cute, little pressurized balloon-ball thing that I can slip into my pocket and walk around with while it infuses.
The next day was my first at home nurse visit. I got lucky. I was nervous I would get some old lady who hates her life, but nope! I got a lovely lady. It does feel a bit fancy to have a nurse come to your house and hang out with you. Obviously we don't just hang out. There was a lot of paper work to be done, she changed and cleaned my dressing (ouch), drew some blood and then walked me through the whole infusion process and gave me some really great tips to make it easier on myself. COOL!
Now, I have successfully done my infusion three times now on my own, and have taught the rest of my family how to do it as well in case I need help. So basically I'm a pro. No big deal.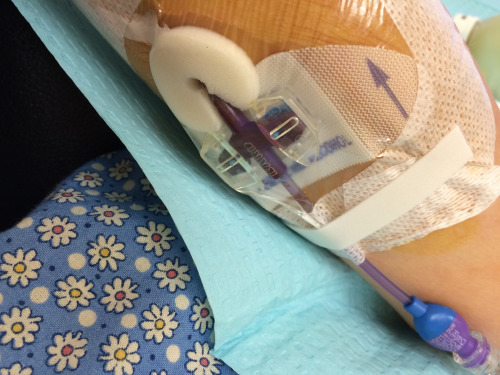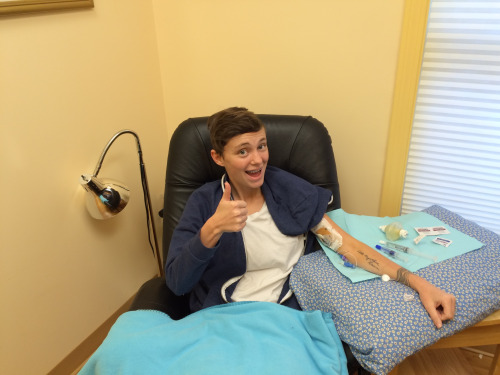 Hannah Barry is 25 years old and lives in Maine. She blogs about her Lyme disease experiences in two places: on her personal website (where this one is from) and on the "Lymelife" blog on the website of the Bangor Daily News.