TOUCHED BY LYME: Understanding Lyme disease through art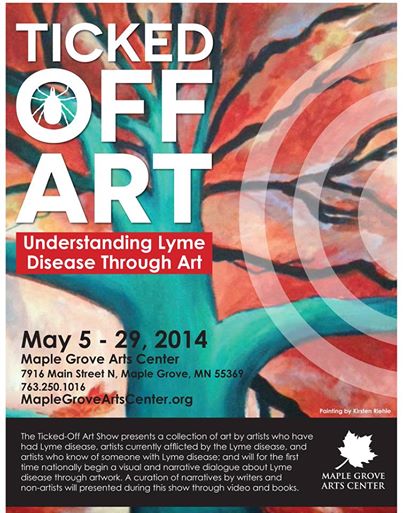 The organizers of this juried show hope to start a dialogue about Lyme disease through art.
Are you an artist with a connection to Lyme disease? Do you suffer from it yourself or does somebody in your life have it? Does your art work reflect your Lyme-related experience? If so, the Maple Grove Arts Center wants to hear from you.
Located in the Minneapolis suburb of Maple Grove, the center is sponsoring a juried art show called "Ticked Off Art 2014: Understanding Lyme Disease Through Art." There are two categories: artists who are 18 and over, and a youth category for 17 and younger. There is no entry fee.
Art work can be paintings, drawings, fibers, batik, hand pulled prints, sculpture or photography.
Entries accepted into the show will be displayed at the art center from May 5-29. An opening reception and awards ceremony will be held on Thursday May 8, at 6:30 – 8.30 p.m. It is free and open to the public.
If you're not local to Maple Grove, you can email a photo of your entry to the art center in advance. If your submission is accepted by the jury, then you can ship your entry to them.
Why an art show about Lyme disease? Here's how Lorrie Link, Executive Director of the Maple Grove Art Center, put it:
"Art offers a neutral ground for engaging and enhancing our understanding of a disease that evokes so much controversy.  Art provides a venue for those afflicted to express themselves through the therapy of creating art. Finally, art provides interpretation and understanding for viewers."
Click here for more information and application details.
TOUCHED BY LYME is written by Dorothy Kupcha Leland, LymeDisease.org's VP for Education and Outreach. Contact her at dleland@lymedisease.org.