Recent tick-related deaths raise alarm from health officials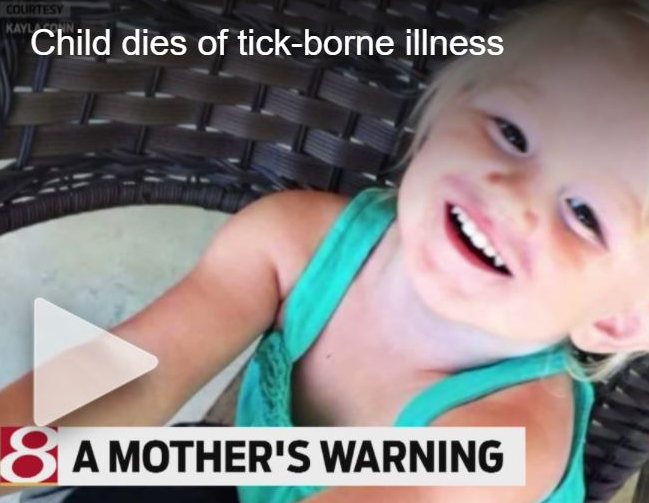 Two deaths from tick-borne Rocky Mountain spotted fever (RMSF) have been reported recently, one a 2-year-old girl in Indiana, and the other a 20-year-old woman in Tennessee. In both cases, the patients were initially diagnosed as having the flu.
In the Indiana case, young Kenley Ratliff developed a high fever about 10 days after her family had returned from a camping trip. She tested positive for strep, and antibiotics were administered. But the fever kept rising over the next several days. By the time doctors suspected RMSF and changed to an appropriate medication, it was too late. More details about Kenley's case here.
Tennessee health officials confirmed this week that Katie Underhill died from RMSF on May 20. News reports say she battled the disease for five weeks, also after initially being treated for the flu. More details here.
Rocky Mountain spotted fever is caused by the bacterium Rickettsia rickettsii, and is spread to humans by the bite of an infected tick.
Medical experts say RMSF can be fatal within the week, if not treated appropriately. The CDC recommends that doctors administer doxycycline immediately if the disease is suspected, and not wait for confirming lab work.
These cases underscore the need for people to become much more tick-aware when spending time outdoors, and for doctors to consider tick-borne illness as a possibility when patients present with flu-like symptoms in spring and summer.
Read more about rickettsial illnesses here.