NEWS: Two Lyme disease bills target gap in treatment in Texas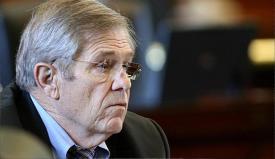 A Texas state senator who has had Lyme disease himself wants to make it easier to get treatment in his state. He has proposed bills which focus on training doctors to recognize Lyme disease and help set up a limited defense for physicians accused of overusing antibiotics to treat Lyme.
From the American-Statesman:
Two Lyme disease bills target gap in treatment in Texas
By Chuck Lindell
AMERICAN-STATESMAN STAFF
Published: 8:49 p.m. Thursday, April 28, 2011
State Sen. Chris Harris blames Lyme disease, left undiagnosed for 2½ years in the mid-1990s, for a heart attack and bone damage that left him with two titanium shoulders and a severely broken foot put back together with steel plates and screws.
"It rotted out my bones," Harris said of the tick-borne bacterial disease.
But Harris said his doctor, fearing punishment from the Texas Medical Board, initially refused to treat him. The doctor believed a long-term course of antibiotics was required, he said, but the disciplinary board seemed to back treatment that limited antibiotic use to one month or less.
Harris said he got a lucky break when his doctor lined up 17 physicians to take turns writing prescriptions. Many long-term Lyme disease patients are forced to travel out of state to receive similar treatment, and those who can't afford it are forced to suffer a debilitating disease with limited treatment options, he said.
Harris, R-Arlington, poured his experience into a bill that originally sought to force the Texas Medical Board and Texas Board of Nursing to recognize as valid the long-term use of antibiotics — sometimes lasting years — recommended in the treat-until-recovery approach of the International Lyme and Associated Diseases Society.
That bill, opposed by the medical establishment, was dead on arrival. But a compromise recently reached with the Texas Medical Association has revived the bill, which along with an identical measure by Rep. Todd Hunter, R-Corpus Christi, received back-to-back committee hearings Tuesday and Wednesday.
Read the rest of the article here.