NEWS: When doctors couldn't, teen figured out on his own that he had Lyme disease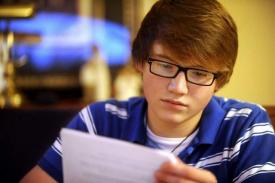 The Argus Leader, a South Dakota newspaper, reports about a Boy Scout who had to do his own research to discover his troubling symptoms were due to Lyme disease.
.
.
.
.
.
.
.
.
.
.
By columnist Jill Callison (Oct. 12, 2011)
For more than a month, Graham Sudenga knew something wasn't right.
He'd developed a lump on his neck, then a rash. His body ached, he was feverish and he would develop headaches of migraine-like intensity.
Then Graham's face drooped on the right side, as if he had received injections of novocaine.
On the first day of his freshman year at O'Gorman High School, he tried to drink milk from a carton. Friends laughed as it dribbled out of his mouth and down his shirt.
Graham had seen three doctors and had been given prescriptions for an antibiotic and a steroid.
Neither one seemed to work.
On Aug. 23, almost five weeks after the lump first appeared, Graham sat down in front of his home computer.
"My facial paralysis wasn't getting any better so I just looked up on Google 'Why can't I control half of my face?' " he says.
The first suggestion was Bell's palsy, a nerve disorder affecting the face. An emergency room doctor had dismissed that possibility. Graham revised the search.
"I typed in after that 'swollen neck' just to make it more specific," he says.
A different answer came up. Graham walked downstairs carrying his computer and faced his parents.
"I said, 'hey, guys, I might have Lyme disease,' " he says.
Click here to read the rest of the story.