TOUCHED BY LYME: Lyme education outreach for San Francisco cabbies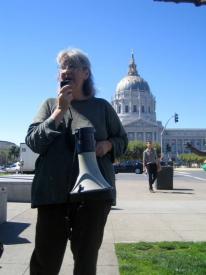 Robin Krop, a San Francisco Lyme activist, finds herself riding taxis several times a week, because she has a bad hip and bouncing buses are too uncomfortable. Before she gets in the cab, she asks the driver if his shock absorbers are in good shape. If he says they are, then she gets in and instructs him to take only the most smoothly surfaced roads (she knows which ones they are) so it will be easier on her hip. At that point, he usually says, "What's wrong with your hip?" And she answers, "I have Lyme disease. Have you ever heard of it?"
Usually, the answer is no. That's when she tells the driver, "I didn't know about it either…."
She tells them her health took a big nose dive when she was bitten by a tick 30 years ago in Big Sur, California, though she didn't know she had Lyme until about five years ago. "And I know of seven cases of Lyme that were acquired right here in San Francisco," she says.
Robin has honed her educational message to a short burst that can be delivered in a cab ride, and, if the driver is interested, she hands out a quarter page flyer she carries with her with more information. Bottom line: you, your family, and your pets are all at risk. You have to protect yourself from ticks.
Some of the drivers have never heard of ticks or Lyme disease. Others know someone with Lyme. Every once in a while, she says, the driver may start asking urgent questions.
"If I'm not in a hurry and the driver isn't in a hurry, I may end up talking to him for half an hour after we've arrived at the destination," she says. "Sometimes, the driver is worried about symptoms he or a family member may have."
Robin's doesn't talk Lyme only to cab drivers, of course. She'll talk to anybody who will listen, including members of the San Francisco Board of Supervisors. And she's not afraid to take that message to the streets. That photo up top shows her holding a bullhorn in front of SF City Hall. It was snapped during last fall's San Francisco Lymewalk. Plans for the 2011 Lymewalk are already underway. If you're near San Francisco, and want to get involved, click here to email her.