Dr. Eva Sapi makes great strides in Lyme disease and cancer research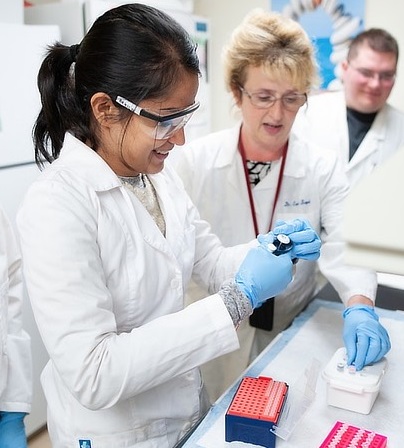 By Renee Chmiel, University of New Haven
Eva Sapi, Ph.D., has long been on the front lines in the search for a cure for Lyme disease – a disease that she herself contracted several years ago.
Director of the University's Lyme Disease Research Group, Dr. Sapi is an internationally recognized expert on the disease, which the Centers for Disease Control and Prevention say is the most common vector-borne disease in the United States. It is caused by the bacterium Borrelia burgdorferi, and it is typically spread by ticks.
Dr. Sapi has spoken with media across the country, including CNN, warning of a "perfect storm" this year for Lyme disease, given the COVID-19 pandemic and the mild winter that, she says, contributed to a "bad year for ticks."
A trained breast cancer researcher, Dr. Sapi spent 15 years conducting breast and ovarian cancer research at Yale University before shifting her focus to Lyme disease. These two research areas may be linked more closely than previously thought, and she is currently exploring a possible link between breast cancer and Lyme disease.
"I'd heard about people who suffered from Lyme disease and then received a breast cancer diagnosis soon after," said Dr. Sapi, coordinator of the University's graduate program in cellular and molecular biology.
"I wondered if the Borrelia bacteria were in breast cancer tissue. My research group examined slides with several kinds of breast cancer, as well as healthy tissues. The normal breast tissues were completely negative for the bacteria, and we have found evidence that they are present in breast cancer tissues. Furthermore, when we introduced Borrelia to cancer cells, we found they start to invade very quickly."
'Presenting at the conference was a great experience'
Although the etiology of breast cancer is still unknown, it is believed to be caused by a combination of genetic and environmental factors – one of which, Dr. Sapi believes, may be bacterial infection. She and her students, who have been an integral part of her research, are focusing on Borrelia. When examining more than 400 invasive breast cancer tissues, they found that a significant number of samples were positive for Borrelia, suggesting that the bacteria may play a role in breast cancer development and metastasis.
Dr. Sapi and several of her students – including Min Zhang '20 M.S. and Gauri Gaur '20 M.S. – presented their research examining a possible breast cancer/Lyme disease link and developing a novel model system for Borrelia at last year's International Lyme and Associated Diseases Society conference.
Recent graduates of the University's graduate program in cellular and molecular biology, Gaur and Zhang worked closely with Dr. Sapi as part of the Lyme Disease Research Group. Gaur was the leading graduate student in the breast cancer project, while Zhang developed a zebrafish model for the Lyme disease bacteria.
"The zebrafish model allows for rapid, non-invasive, and real-time analysis of Lyme disease bacteria," she said. "This animal model shows the potential to extend our understanding of the interplay between bacterial virulence factors and host defense mechanisms in the pathogenesis of Borrelia. Presenting at the conference was a great experience, and it enabled me to get feedback from professional peers."
'I hope this research puts a different perspective on all cancer'
Dr. Sapi and her students' pilot study was supported by Pink Clover, the Colleen Sorbello Breast Cancer Foundation, which was founded by University benefactor Sam Sorbello in honor of his late wife, Colleen. The University's Colleen Sorbello Research Laboratory in Dodds Hall also bears the name of Colleen, who died of breast cancer.
Dr. Sapi's goal is to identify antibacterial agents that are effective in killing all forms of the bacteria. She found Borrelia can form a protective layer – a biofilm – around themselves, enabling them to resist antibiotics. She and her students also discovered that liquid whole-leaf stevia extract reduced the biofilm mass by about 40 percent, and they continue to explore that as a possible lead.
'Science can be fun and fascinating'
Dr. Sapi spent five years conducting research with an expert at Columbia University, assisting with a study that focused on a woman from New York who tested positive for Lyme disease and received antibiotic therapy for 16 years. Despite taking many combinations of antibiotics, the woman had serious complications, including seizures, and, ultimately, died from the disease. The researchers sequenced everything in her tissue, finding Borrelia and confirming that the bacteria can form a biofilm, enabling them to resist antibiotics. Dr. Sapi's research was published in the journal Antibiotics.
In addition to her work on the front lines of Lyme disease and breast cancer research, Dr. Sapi is eager to share her passion for research with her students, and to teach and inspire the researchers of the future.
"I always make sure that students' projects will get them excited and passionate about science," she said. "I know they'll be in the lab for long hours, and I want them to want to be there. As mentors, we need to be encouraging, and we need to show them that science can be fun and fascinating."
SOURCE OF PRESS RELEASE: University of New Haven