TOUCHED BY LYME: Hip hop artist channels Lyme journey into rap song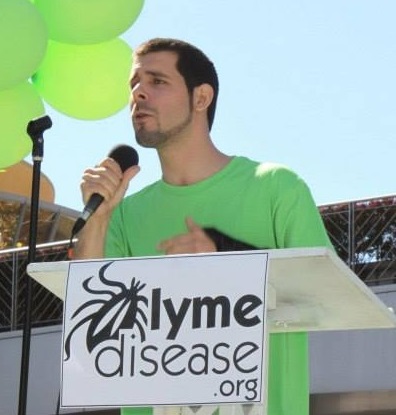 "Revolt" performed at Oct. 5's Lyme protest in San Francisco.
Zach Reed is a hiphop artist who has been performing in the San Francisco Bay Area for many years. When his health took a dive in 2008, doctors told him he had fibromyalgia and there was nothing to be done. He was finally diagnosed with Lyme disease from an IGeneX test last year. In the meantime, he had almost entirely lost his ability to walk, often needing an electric wheelchair to get around. He suffered with sleep apnea and insomnia, heart palpitations, muscle spasms throughout his body, constant nerve pain and many other Lyme symptoms.
Just getting the Lyme diagnosis wasn't a magic bullet for him, however. "My largest struggle with Lyme has been the cost of the care," he says. "After spending some $5000 on doctor visits and medication, I can no longer afford treatment."
He has channeled the pain and anger into his music, putting thought and intention into every line he writes. "I go by Revolt, a name and a message to everyone struggling for survival and self-identity," he explains. "Collectively as a people we can accomplish more than any individual can, and this is what keeps me writing and performing to audiences.  Inspiring collective change is what I strive for in my music."
On October 5, Revolt performed a Lyme rap song at the IDSA protest outside San Francisco's Moscone Center. "It was very healing and empowering to be able to perform it in front of such a welcoming audience," he told me later.
Here is the video of that performance.
He released his first demo Rise Up & Revolt in 2011 and is currently recording his first LP release Revillusion, which will be available in 2014.  Tracks from the demo are available for free at www.soundcloud.com/revoltrightnow.
TOUCHED BY LYME is written by Dorothy Kupcha Leland, LymeDisease.org's VP for Education and Outreach. Contact her at dleland@lymedisease.org.