Take steps now to protect you and your family from tick bites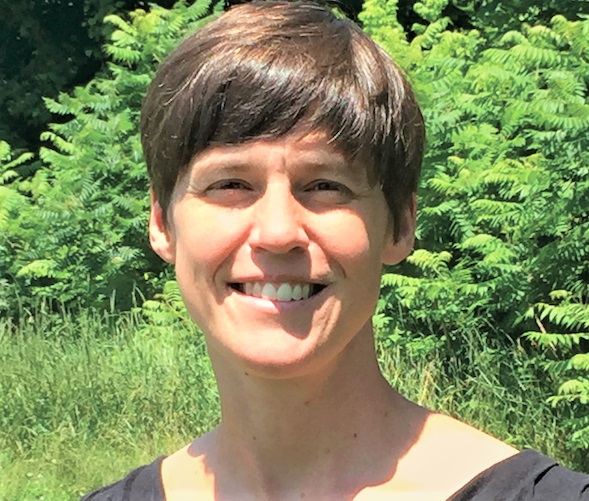 By Alexis Chesney, ND, LAc
As we are enjoying warmer days here in New England, I am seeing new cases of Lyme disease in patients who have had recent tick bites. I am a naturopathic physician specializing in Lyme and tick-borne disease (TBD).
Prevention is one of the foundational principles of naturopathic medicine. While I mainly work with patients who are chronically ill, I am passionate about tick bite prevention.
Overcoming Lyme and TBD once does not protect you from further exposures. Being on treatment for one tick-borne disease will not protect you from all of the pathogens that may be transmitted through a new tick bite. And if you have not had Lyme disease, at the rate this epidemic is progressing, it may be more accurate to say you haven't contracted it yet.
Without an effective vaccine, accurate testing, or simple effective treatment, each of us must do our part to educate ourselves and each other in order to stop the Lyme and tick-borne disease epidemic.  Fortunately, there are many proactive strategies you may take to prevent Lyme and TBD.
Tick tubes
As the snow melts outside my window, now is the time to make or purchase tick tubes. Tick tubes are an excellent intervention to target ticks in areas where mice nest.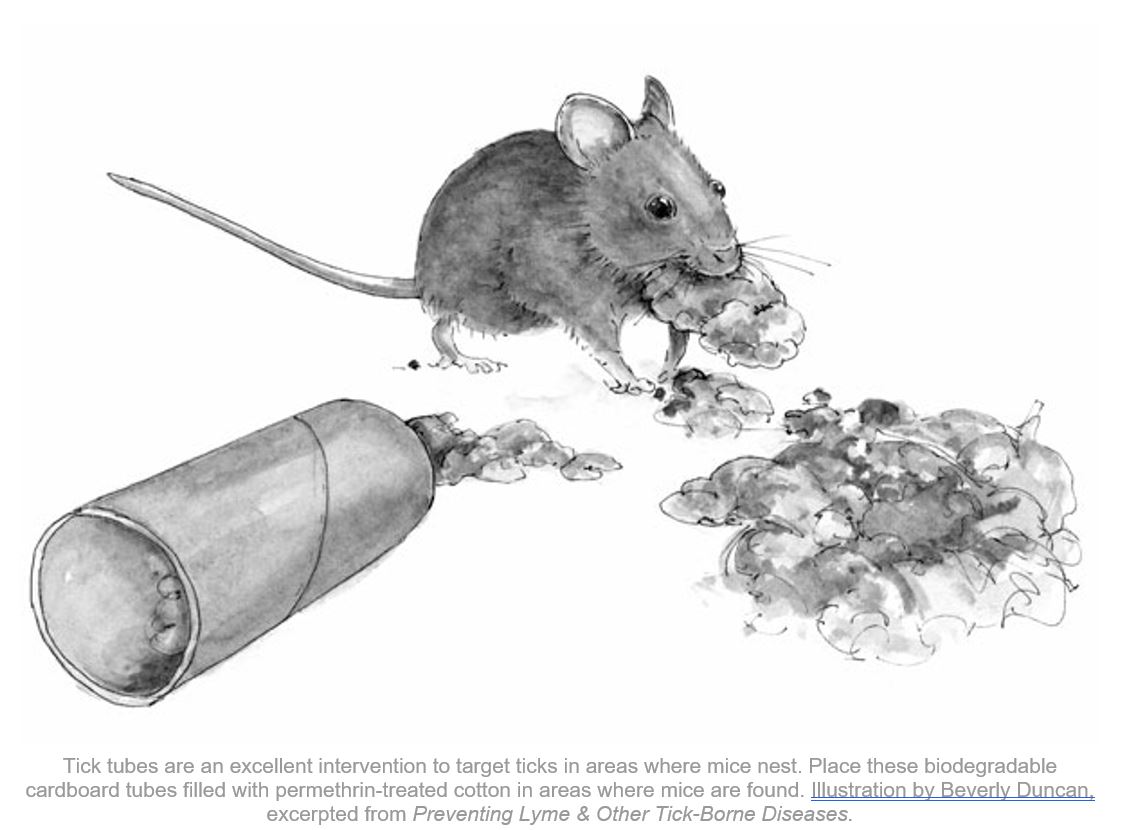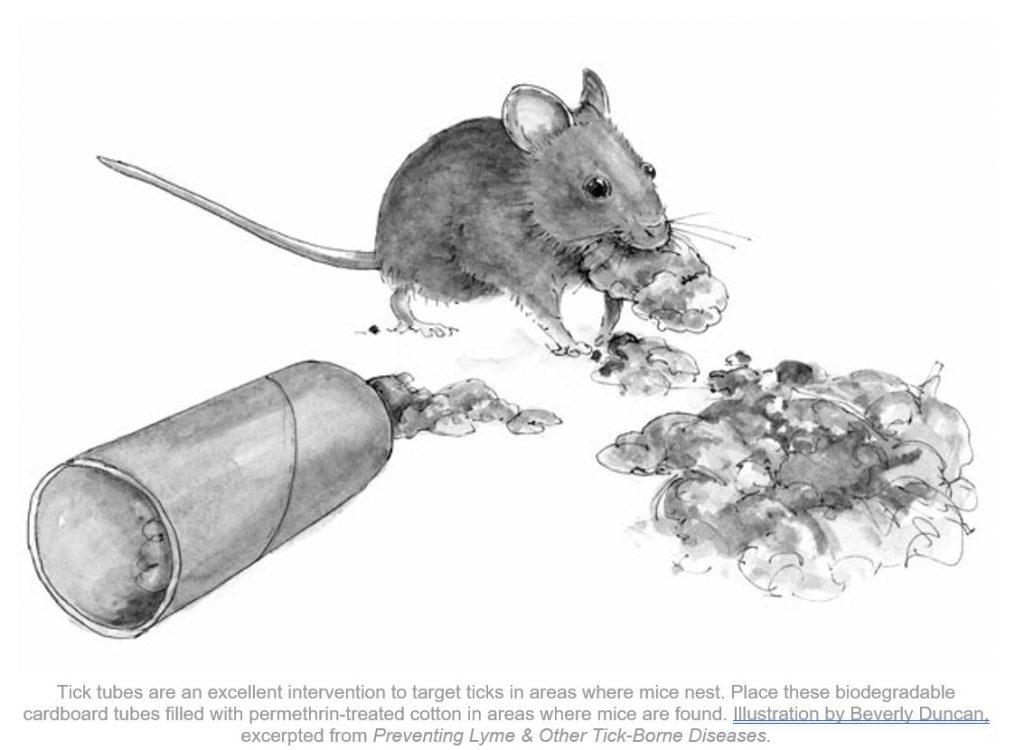 As Richard Ostfeld explains, "White footed mice are consistently shown to be the most efficient wildlife reservoirs of Borrelia burgdorferi, infecting between 75 and 95 percent of larval blacklegged ticks that feed on them."
Place these biodegradable tick tubes filled with permethrin-treated cotton in areas where mice are found. The mice will take the permethrin-treated cotton to build their nests. The permethrin will not harm the mice or other animals, but it will kill ticks and, most important, at the larval stage.
It is the larvae that most often feed on mice, and the permethrin kills them before they have a chance to acquire pathogens from the mice and before they reach the nymph and adult stages, when they might use humans as hosts.
Research shows that over an 8-year period, there was on average a 93.6 percent reduction in exposure per hour to infected ticks in treated areas of the Fire Island Pines, New York.
Learn how to make your own tick tubes by going to page 72 of Preventing Lyme and Tick-Borne Diseases. [You can also purchase ready-to-use tick tubes online.]
Personal prevention
Next, let's discuss personal tick bite prevention strategies. Here are effective strategies for when you're in tick territory:
Use personal tick repellent.
Wear permethrin-treated clothing.
Wear light-colored clothing.
Tuck pants into socks and shirts into pants.
Avoid walking through grass and leaf litter.
Treat your pets with tick-control products, and check them for ticks every few hours while outdoors and when they come indoors.
When you come in from the outdoors, place your clothes directly in the dryer on high heat for 6 minutes to kill ticks.3
Shower soon after coming indoors. (Note: This in and of itself will not wash off attached ticks, but it will aid you in spotting them and may wash off crawling ticks.)
Conduct a full-body tick check. Use sight and touch to sense for any ticks crawling on or attached to your entire body. Ticks are attracted to warmth and moisture, so make sure to search under your arms, behind your knees, between your legs, inside your belly button, between your buttocks, in your genitals, under your bra, around your waist, around and in your ears, on your head, and between your toes. Use a mirror or another set of eyes to check hard-to-see places.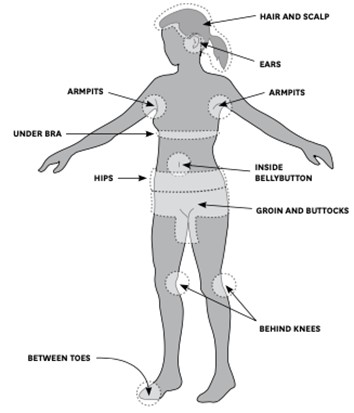 Illustration by Beverly Duncan, excerpted from Preventing Lyme & Other Tick-Borne Diseases.
Permethrin
The most effective way to kill and repel ticks is to use pyrethroids. I do not recommend using pyrethroids on the land because when wet they are toxic to bumblebees, butterflies, and aquatic life, and moderately toxic to birds.
However, I do recommend the careful use of permethrin (a type of pyrethroid) in treating materials. Permethrin-treated clothing and gear is highly effective against tick bites and safe for use. In one study, researchers reported that "subjects wearing permethrin-treated sneakers and socks were 73.6 times less likely to have a tick bite than subjects wearing untreated footwear."
When you treat your own clothing with permethrin, it is effective for six weeks before requiring another treatment. You can buy clothes that have already been treated with permethrin, but if you have clothing that you wish were treated, there are companies that will do it for you.
Insect Shield has created a factory-based technique for long-lasting permethrin impregnation of clothing that allows for clothes to hold their pesticidal activity against Ixodes scapularis (blacklegged "deer" ticks) for 70 washes.
A study conducted on workers from the North Carolina Division of Water Quality wearing clothing treated by Insect Shield found a 99 percent decrease in the rate of tick bites acquired during work hours and a 93 percent decrease in the total incidence of tick bites.
While research is not conclusive about the effectiveness of using essential oils on the land, research and experience shows that essential oils on the skin are effective as a personal tick-repellent spray while we are in tick habitat. The product I recommend and use myself is 20 percent cedarwood oil and 80 percent hydrated silica. I recommend reapplying every 1 to 2 hours. It is nontoxic to bees, butterflies, and fish.
What if you get a tick bite?
Implementing tick bite prevention strategies is crucial, but equally important is knowing when to administer prophylaxis — that is, a measure taken to prevent disease. Prophylactic measures can be initiated by anyone immediately after finding a tick bite, and they can be used regularly by people at high risk for tick bites.
The prophylaxis I recommend is a specific herbal formula designed to target the pathogens specifically carried by ticks in your area. For example, if you are at risk for a blacklegged (deer) tick bite, "deer tick bite formula" which contains cat's claw, cryptolepis, Japanese knotweed and houttuynia would be the appropriate formula.
In addition to killing the pathogens that may be carried by the blacklegged tick (Borrelia burgdorferi, B.mayonii, B. miyamotoi, Babesia species, Anaplasma phagocytophilum, Ehrlichia muris eauclairensis, and Powassan virus), the herbs activate the immune system in a beneficial way in the face of those pathogens.
Discuss whether the herbal prophylaxis is appropriate for you with a trained professional.
If you develop a rash or symptoms after a tick bite, you have passed from the realm of prophylaxis into a symptomatic tick bite and possible acute tick-borne disease. Therefore, please contact a Lyme-literate medical professional to discuss your signs/symptoms and get the appropriate comprehensive testing and treatment required.
While Lyme and other tick-borne diseases are on the rise, you are now equipped with some tick control and personal tick bite prevention tactics, as well as herbal prophylaxis. My hope is that I may empower a movement to halt the spread of Lyme and TBD through prevention. Prevention is the best medicine!
Excerpted from "Preventing Lyme and Other Tick-Borne Diseases" by Alexis Chesney. Used with permission from Storey Publishing.
Alexis Chesney ND, LAc is a naturopathic physician and acupuncturist specializing in the treatment of Lyme and other tick-borne diseases. For more information about her book and her protocols, see her website dralexischesney.com.
References
Richard S. Ostfeld, Lyme Disease: The Ecology of a Complex System (New York: Oxford University Press, 2012).
"Damminix Tick Tubes Test Results on Fire Island, N.Y.," Ecohealth Inc., www.ticktubes .com/downloads/ticktubes_fire_island_study.pdf. Accessed March 11, 2018.
Christina A. Nelson, et al., "The Heat Is On: Killing Blacklegged Ticks in Residential Washers and Dryers to Prevent Tickborne Diseases," Ticks and Tick-Borne Diseases 7, no. 5 (2016): 958–63, doi:10.1016/j.ttbdis.2016.04.016.
Nathan J. Miller, Erin E. Rainone, Megan C. Dyer, and Liliana Gonzalez, "Tick Bite Protection with Permethrin-Treated Summer-Weight Clothing," Journal of Medical Entomology 48, no. 2 (January 2011): 327–33, doi:10.1603/me10158.
"Knockdown Testing," Insect Shield, www.insectshield.com/Knockdown-Testing.aspx. Accessed March 11, 2018.
Meagan F. Vaughn and Steven R. Meshnick, "Pilot Study Assessing the Effectiveness of Long- Lasting Permethrin-Impregnated Clothing for the Prevention of Tick Bites," Vector-Borne and Zoonotic Diseases 11, no. 7 (July 2011): 869–75, doi:10.1089/vbz.2010.0158.