How to organize a Lyme disease education event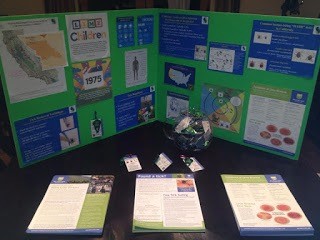 If you haven't done something like this before, we recommend you start small–right in your own community. Here is a simple guide on how to get started.
.
.
.
Suggested places for Lyme Disease Awareness Events
Schools and libraries
Youth groups (sports team, YMCA, 4-H, science camp)
Workplace (work, gym, day care center, doctor's office)
Community (fire department, parks & recreation department, chamber of commerce, service clubs)
Five Steps on How to Plan an Event
Set up a meeting with the school principal, manager or director at your chosen venue.

Review the basics of your event.
Leave copy of Lyme Facts and an outline of your program.
Evaluate the size of the venue. (Have back-up plan if rain or shine.)
Decide how many will attend, and how much time you need.

Invite a local celebrity or elected official to attend your event and give the opening speech. Have them share a story or read your Proclamation. (see "How to do a Proclamation" here).
Contact your local News Paper and/or TV Station. Invite them to cover your event:

E-mail a press packet. (see "How to do a Press Release" here)
Include a cover letter with a description of your event, date and time.

Compile a list of materials you will need for the Event:

Print tick-borne disease facts
Visit you State Vector Borne Disease web site to obtain facts for your area.
Order brochures, banners, bracelets, ribbons, tick removers, etc.
Make signs, flyers, and posters for your presentation.
Download or create a powerpoint presentation, if needed.
Reserve tables, chairs, sound equipment, if needed.

Advertise your event

Laminate and post flyers at the place of your presentation or around town. (print here)
Submit the event to school paper, the venue's newsletter, Facebook page or website.
Submit details of your event and press release to local newspapers and TV station.
Create an "event" on Facebook. Invite all your family and friends
Sample Program: Noon-Time School Education Program:
Step 1. Meet with school principal. Set a date.
Leave a folder with tick facts and an outline of your event.
Step 2. Contact county supervisor, mayor, or other elected official.
Ask if they can attend your event and give the welcome speech.
Step 3. Put together press packet with brief description of event and the special guest.
Contact local TV station and get their commitment for attending the event.
E-mail the press packet to TV and newspapers.
Step 4. Download and print all materials.
Order tick-removers, posters, bracelets, and make business cards, if needed.
Step 5. Meet at venue. Evaluate the need for table, chairs, and sound system.
Review outline of event.
Step 6. One month before, confirm by phone or e-mail with all parties.
Ask special guest to send a copy of their bio.
Ask school to announce over PA system on the AM of event.
Step 7. Write a script of what you will be discussing.
Write an introduction of special guest.
E-mail outline of program to the school principal, special guest and media.
Step 8. One week before, call to confirm with all parties. Make changes as needed.
Step 9. One day before, call to confirm with all parties.
Ask them to arrive 20-30 minutes before event.
Pick-up bottled water, table, chairs and sound equipment.
Day of Event:
Arrrive 1-2 hours before event to set-up.
Run a sound check.
Make introductions to news crew. Give copy of press release.
Introduce special guest to the principal and review bio and sequence of events.
Play music for 5-10 minutes as kids are getting out of class and gathering.
Have principal announce the start of event and introduce the special guest.
Special guest tells story about how Lyme has affected them (or family member).
Thank principal and special guest, then briefly talk about how Lyme has affected you or a loved one, signs and symptoms of Lyme Disease, other tick-borne diseases and how to prevent tick bites.
Encourage kids to come to table and get free bracelets, brochures, or other handouts.
Take a group photo with kids. Take selfies with principal and guest.
Encourage everyone to send in ticks for free testing. Hand out forms.
Linger for questions.
Thank Everyone for Coming.
Sample: TV Coverage of Lyme Disease Awareness Event: 
"Students at SLO High Learn About Lyme Disease"
Helpful Hints:
Have music playing at beginning and end of the program. It creates a fun atmosphere.
Focus on 2-3 key facts. For example: ticks, prevention, signs & symptoms of Lyme.
Use large print, age appropriate, easy to ready, easy to understand facts.
Have a handout or brochure for each child to take home to share with family.
Resources: